PODCAST FOR THIS EPISODE:
Scripture to consider before the news:
"I will also gather all nations, and will bring them down into the valley of Jehoshaphat, and will plead with them there for my people and for my heritage Israel, whom they have scattered among the nations, and parted my land."
God's land of Israel will soon be parted with what is looking like the Palestine two-state solution.
New developments show things progressing toward that scripture being fulfilled soon.
Now unto the news:
Abbas, Israel's Gantz hold new high-level talks.
Israel's defense minister has held talks with the Palestinian president in Ramallah, the first high-level meeting between the two sides in years, officials said.
Sunday's meeting between Benny Gantz and Mahmoud Abbas signaled a possible shift of direction after after the near-complete breakdown of communication between Abbas and Israeli leaders in recent years.
It came two days after President Joe Biden urged Israel's new prime minister during a White House meeting to take steps toward improving the lives of Palestinians.
Gantz's office said he told Abbas that Israel will take new measures to strengthen the Palestinian economy. It said they also discussed security issues and agreed to remain in touch. It was believed to be the highest level public meeting between the sides since 2014.
A Palestinian official said Gantz and Abbas discussed possible steps toward improving the atmosphere. He said this included Palestinian demands for a halt in Israeli military operations in Palestinian areas of the occupied West Bank, allowing unification of families with relatives inside Israel and allowing more Palestinian workers into Israel. The official spoke on condition of anonymity because he was not authorized to discuss the late-night meeting.
Israeli Prime Minister Naftali Bennett is a hard-liner who opposes Palestinian independence, as do key partners in his diverse, ruling coalition. But Bennett has said he supports building up the Palestinian economy and expanding autonomy for Palestinians. He also is interested in bolstering Abbas in his rivalry with the ruling Hamas militant group in Gaza.
While Biden supports a two-state solution between Israel and the Palestinians, his administration is focused on interim confidence-building measures. Israel's former prime minister, Benjamin Netanyahu, pursued a hard-line policy toward the Palestinians, backed by former President Donald Trump.
The Trump administration took a number of steps, including moving the US Embassy in Israel from Tel Aviv to contested Jerusalem. Abbas halted most contacts with the US and Israel in return.
Netanyahu had repeatedly claimed Abbas was not a reliable partner for negotiating a peace deal, a portrayal dismissed by Netanyahu critics as a pretext for avoiding making concessions.
Hussein Sheikh, a top Abbas aide, confirmed the meeting in a statement on Twitter. It took place on Sunday night in Ramallah in the Israeli-occupied West Bank, where Abbas maintains his headquarters.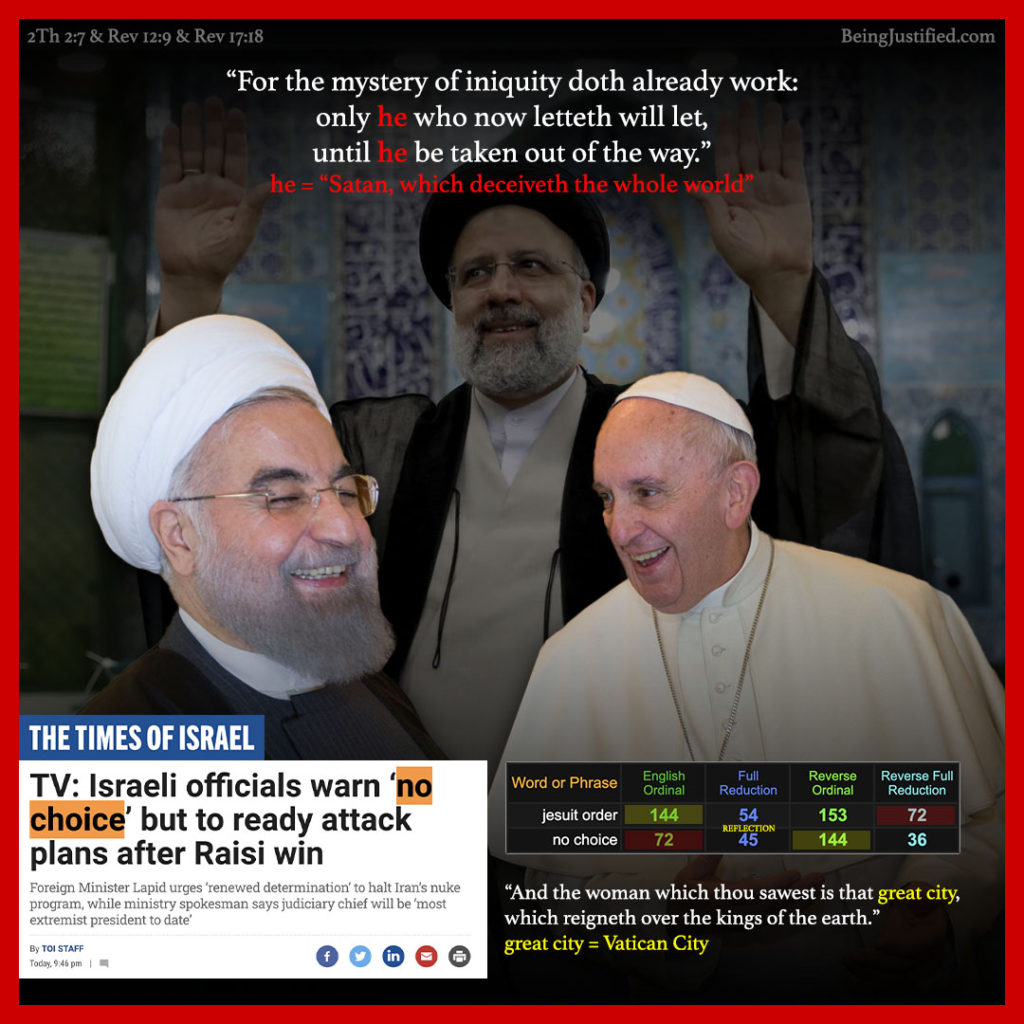 In other news:
Israel and US working on 'Plan B' if Iran nuke talks fail, Gantz says.
Defense Minister Benny Gantz on Monday said Israel and the United States had restored intelligence ties and were working to develop a "Plan B" if the stalled talks between Washington and Tehran regarding a fresh Iran nuclear deal sputter out, following a meeting between Prime Minister Naftali Bennett and US President Joe Biden last week.
Gantz warned that if Iran becomes a nuclear state, it will trigger an international arms race in which many other nations, in the Middle East and beyond, will attempt to acquire an atomic bomb.
"The United States and Israel share intelligence information, and the cooperation with the United States in this field is only getting stronger. We are working with them in order to establish a Plan B and to demonstrate that if there is no deal, other activities will begin, as President Biden said," the defense minister said, speaking to military correspondents ahead of the Jewish New Year next week.
On Friday, the US president told a joint press conference with Bennett that his administration was "ready to turn to other options" if diplomatic talks with Iran failed, likely alluding to the possibility of clandestine operations and military strikes.
The White House meeting came a day after US officials told the New York Times that Israel's previous administration had downgraded intelligence sharing with the US after Biden took office. Bennett has sought to restore ties with US Democrats after their relationship with former prime minister Benjamin Netanyahu became frayed, though Iran was the focus of the Friday meeting.
Gantz did not specify what the "Plan B" could entail, but Israeli officials have signaled a need for a credible military threat to deter Iran from pursuing nuclear weapons.
Lastly, in the news:
Iran, Saudi Arabia set to resume new round of talks in Iraq.
Scripture to consider:
"And he shall confirm the covenant with many for one week: and in the midst of the week he shall cause the sacrifice and the oblation to cease, and for the overspreading of abominations he shall make it desolate, even until the consummation, and that determined shall be poured upon the desolate."
The he that will confirm the covenant which is looking to be the Abraham Accords is looking to be Prince Mohammed bin Salman of Saudi Arabia.
In this new development you will see the land of the prince start new talks with the boogieman Iran which they are openly at odds with, but secretly are all under Vatican control via her Jesuit militia because there is one GREAT city in the scripture of truth that reigns over ALL the kings of the earth today for the final kingdom of iron and clay.
Let us see where this feud between the land of the prince and Iran is heading.
Iran will soon resume talks with regional rival Saudi Arabia, Iranian officials said, marking an expected fourth round of negotiations to be held in Iraq's capital, Baghdad.
Iranian Foreign Minister Hossein Amir-Abdollahian said last night he spoke about resuming talks when he met Saudi counterpart Faisal bin Farhan Al Saud during a regional conference hosted by Baghdad on Saturday.
Amir-Abdollahian said the Saudi side agreed to resume talks after "the new government in Iran is situated."
Tehran's ambassador in Baghdad, Iraj Masjedi, affirmed the plan on Tuesday. Masjedi was quoted by state-run Iranian Students' News Agency (ISNA) as saying the next round of talks would occur after Iran's new government takes office.
Iranian and Saudi officials have held quiet discussions in Baghdad under the auspices of Iraqi Prime Minister Mustafa al-Kadhimi's government since April.
The talks have aimed at reducing tensions across the region as the two sides back opposing sides in various conflicts.
Things to consider:
The Iraqi Prime Minister Mustafa al-Kadhimi has met with the jesuit pope and the crown prince of Saudi Arabia who are looking to be the false prophet and the beast of Revelation chapter 13, continuing the trend of these 2 beasts meeting with similar people separately, but not together, because it is not their time to meet, yet.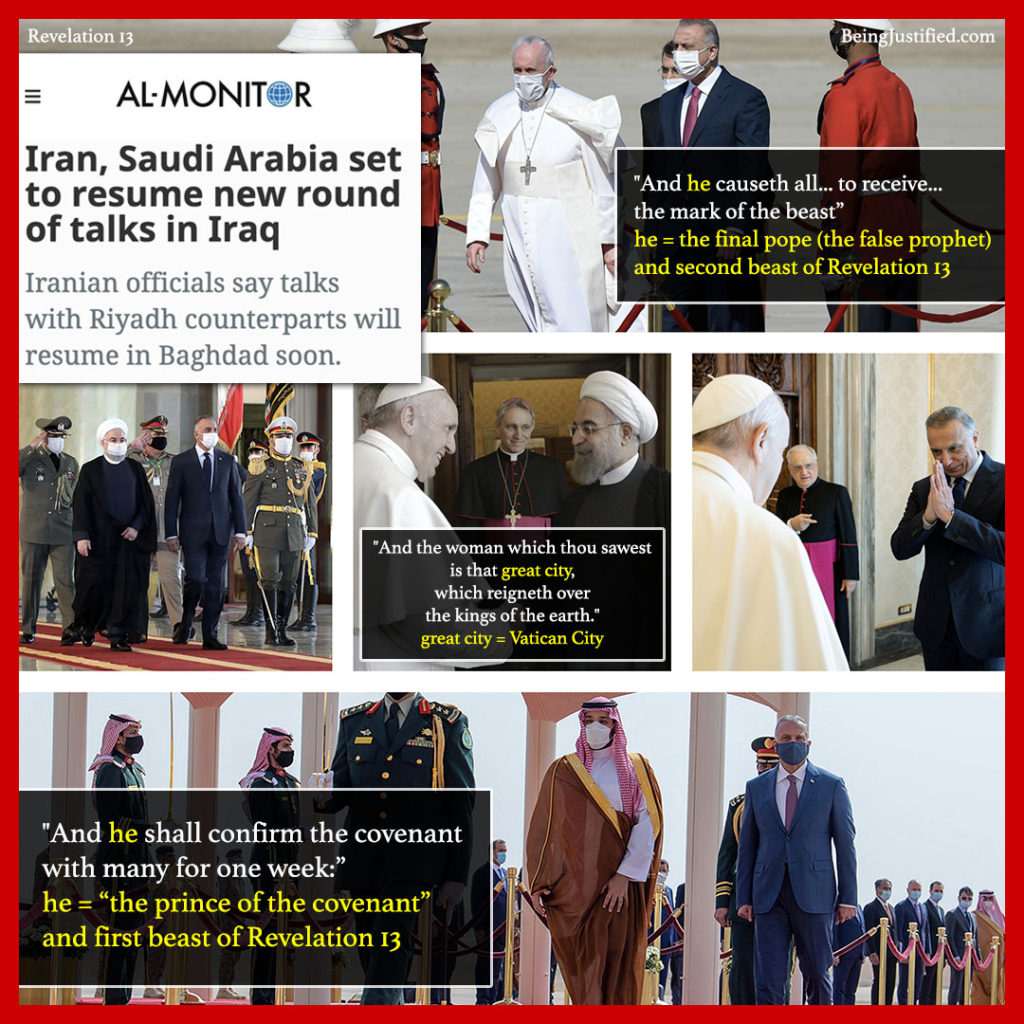 Riyadh finds itself unable to roll back Iran-backed Yemeni rebels' gains amid Yemen's civil war and flirting with restoring ties with the Syrian regime of President Bashar al-Assad, also backed by Iran.
The talks were initially floated under the Iraqi premiership of Adel Abdul Mahdi but did not materialize until this year.
The negotiations could reduce hostilities in the region, potentially lessening the Gulf states' reliance on US defense support and military presence, a development that could allow the Biden administration to prioritize its stated strategic focus on East Asia.
Tensions between the archrivals spiked under the previous US administration of former President Donald Trump.
Trump's abandonment of the 2015 international nuclear accord with Iran and imposition of a "maximum pressure" campaign of sanctions against Tehran were followed by a series of attacks on commercial shipping in the Gulf and strikes on Saudi Arabia.
The weapons used in the attacks have in some cases been assessed by US and UN experts to be of Iranian origin.
Meanwhile, Iran's hostile rivalry with Israel shows little sign of abating. On Tuesday, an oil slick from a coastal Syrian refinery approached the coast of Cyprus.
Israel has reportedly conducted a series of sabotage attacks against Iranian petroleum shipments to Syria, causing significant spills in the Eastern Mediterranean. Iran has also attacked Israeli-linked shipping vessels in the Gulf region.