PODCAST FOR THIS EPISODE:
Scripture to consider before the news:
"I will also gather all nations, and will bring them down into the valley of Jehoshaphat, and will plead with them there for my people and for my heritage Israel, whom they have scattered among the nations, and parted my land."
God's land of Israel will be parted with what is looking to be the Palestine two-state solution soon.
This is yet another end times trend you will see culminate as we head into the final prophetic 70th week spoken of by Daniel the prophet.
The Palestine two-state solution also seems to be a requirement before the land of "the prince of the covenant" which is Saudi Arabia signs unto the Abraham Accords.
Now unto the news:
Jordan's Jesuit Georgetown educated king meets with Abbas, reiterates support for two-state solution.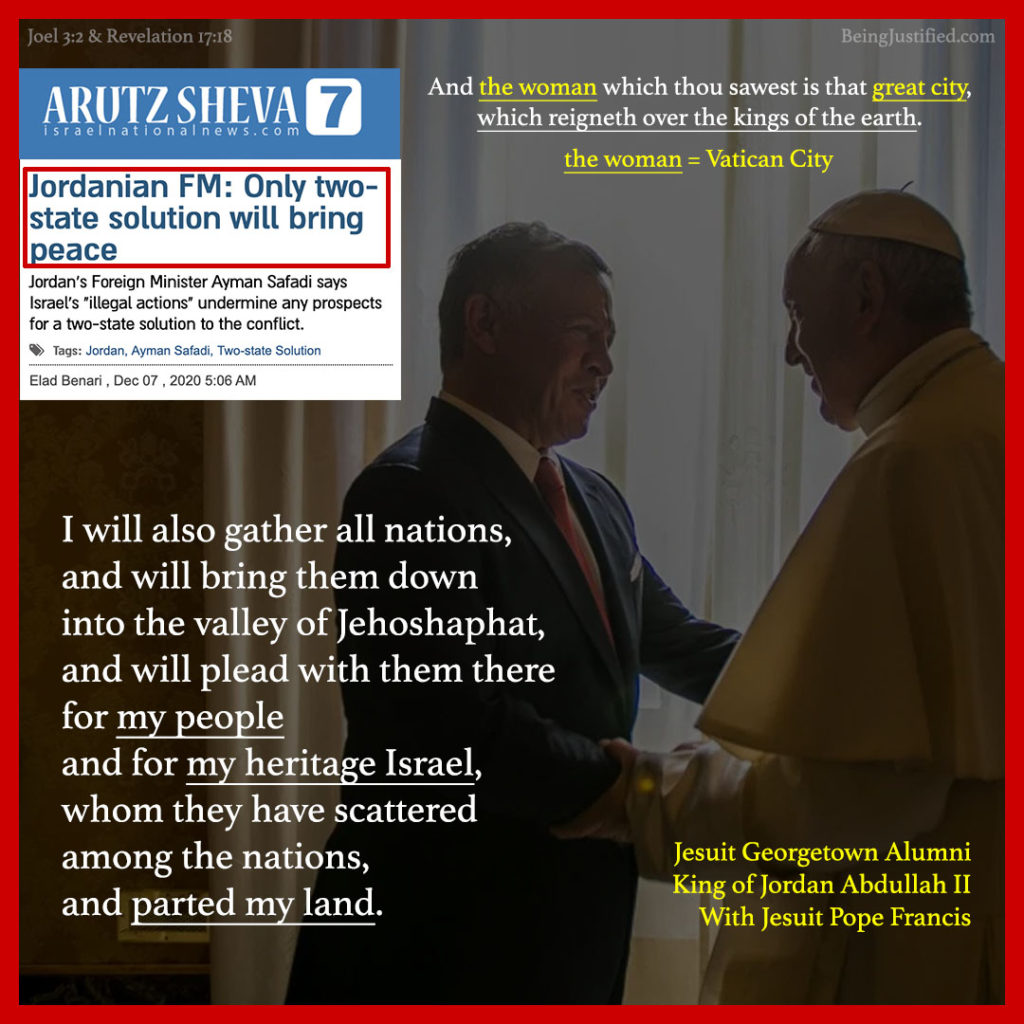 Palestinian Authority President Mahmoud Abbas on Wednesday made a surprise visit to Amman, where he met with Jordan's King Abdullah.
The visit is to be seen in the context of coordination between the PA and Jordan ahead of Abdullah's planned trip to the US on July 19.
The PA and Jordan have expressed support for resuming the Middle East peace process on the basis of a two-state solution.
Abbas's visit to Amman came as a committee, formed to investigate the death of Palestinian anti-corruption activist Nizar Banat, presented its findings to PA Prime Minister Mohammad Shtayyeh.
The death of Banat, allegedly beaten to death by PA security officers who came to arrest him last week in Hebron, triggered widespread protests in a number of Palestinian cities, where demonstrators chanted slogans against Abbas.
The PA's official news agency Wafa said that Abbas had a "private meeting" with the Jordanian monarch. "They discussed the latest political developments in the Palestinian arena, bilateral relations and issues of mutual concern," the agency said. "President Abbas affirmed ongoing coordination with Jordan on the interest of the Arab nation and its common causes, primarily the Palestinian cause."
During the meeting with Abbas, Abdullah reiterated Jordan's support for the Palestinians in "achieving their just and legitimate rights and establishing their independent, sovereign and viable state on the June 4, 1967 lines, with East Jerusalem as its capital," according to a statement published by the Jordanian news agency Petra.
Abdullah "stressed the importance of translating the ceasefire in the Gaza Strip into an extended truce that pushes towards a political solution that achieves the Palestinians' rights," the agency said. "His Majesty stressed the need to intensify international efforts to achieve a just and comprehensive peace based on the two-state solution, and to preserve the legal and historical status quo in Jerusalem, warning that Israel must stop all attacks and illegal measures in the Palestinian territories."
Jordan continues to play its historical and religious role in protecting Islamic and Christian holy sites in Jerusalem, based on the Hashemite guardianship over these holy sites, Abdullah said during the meeting. He also praised as "positive" the US administration's decision to resume financial aid to the United Nations Relief and Works Agency for Palestine Refugees (UNRWA).
In other news:
Israel seeks to extend new Gulf ties to all Middle East, says Lapid.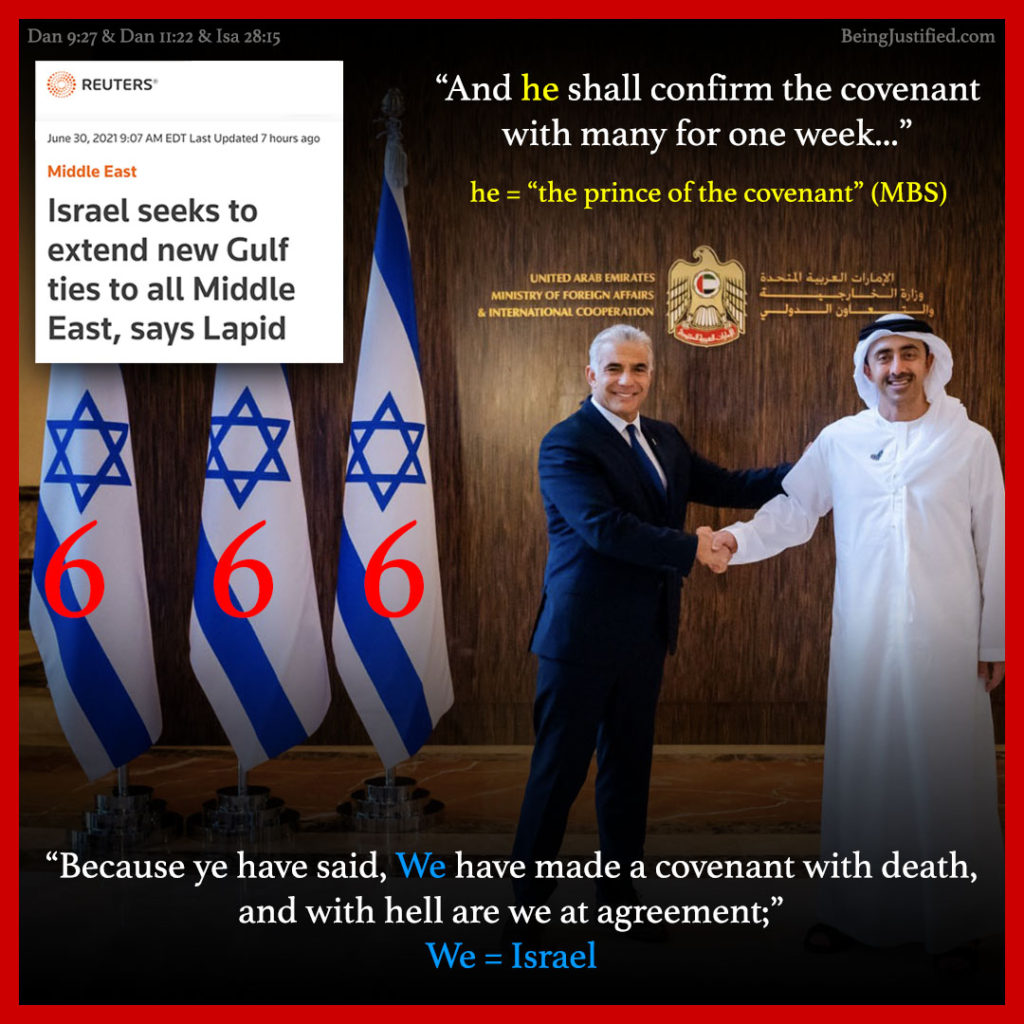 Israel's new foreign minister said on Wednesday his landmark visit to the United Arab Emirates was just the start of a road to wider peace in the Middle East, reaching out to Arab states still wary of normalising ties.
Yair Lapid, the first Israeli cabinet minister to visit the Gulf state since the countries forged ties last year, also reiterated Israel's concern about the Iran nuclear deal being negotiated in Vienna.
The trip comes amid unease in Israel and Arab capitals about U.S. efforts to re-enter a 2015 nuclear pact between Iran and world powers, which then President Donald Trump quit in 2018 in a move backed by Saudi Arabia and its Gulf allies.
"This visit isn't the end of the road to peace, it is just the beginning," he told reporters. "Our hand is outstretched … I hope this visit is the first of many and that together with our new friends we continue to make history in the entire region."
The UAE and Bahrain normalised ties with Israel under so-called "Abraham Accords" brokered by Trump's administration, creating a new regional dynamic based on mutual concern over Iran and Islamist groups. Sudan and Morocco followed suit.
Lapid declined to comment on whether Israel was coordinating with Gulf states over Iran, saying he did not want to "embarrass" his hosts by remarking on a neighbour while in the UAE, but noted his country was worried about the nuclear deal.
Gulf states have called for a stronger deal of longer duration that also addresses Tehran's missiles programme and support for regional proxies that Iran has denied giving.
During his two-day visit, Lapid inaugurated Israel's temporary embassy in Abu Dhabi and consulate in Dubai.
The UAE has said the accords, which challenged a decades-old allegiance to the Palestinian issue as a major driver of Arab policy, would ultimately benefit the Palestinians.
Gaza's Islamist rulers Hamas condemned Lapid's visit, saying it happened while Israeli authorities destroyed a Palestinian-owned shop in East Jerusalem, which Israel captured in a 1967 war and that Palestinians seek for a future state.
"Normalisation agreements will encourage the occupation (Israel) to escalate its aggression against our people," Hamas said on Tuesday. Israel said the shop had violated zoning laws.
On Tuesday UAE foreign minister Sheikh Abdullah bin Zayed told Israel's Walla news site: "I believe that sooner or later Israel should resolve the Palestinian problem. This not only harms Israel's image, but is also liable to raise doubts as to its future. This is a big challenge for you."
Scripture to consider:
"And he shall confirm the covenant with many for one week: and in the midst of the week he shall cause the sacrifice and the oblation to cease, and for the overspreading of abominations he shall make it desolate, even until the consummation, and that determined shall be poured upon the desolate."
That he that will confirm the covenant which is looking to be the Abraham Accords is "the prince of the covenant" which is looking to be Prince Mohammed bin Salman of Saudi Arabia, the birthplace of Islam.
In related news:
Will Israel accept 'half a loaf' on Iran's nuclear program?
Despite the election of a zealot as Iran's new president, Iran and the United States likely will return to the Joint Comprehensive Plan of Action, known as the JCPOA or the Iran nuclear agreement, with only minimal changes. Iran needs to stabilize its government to prevent a popular uprising, in part because of the economic collapse fostered by stringent American sanctions. At the same time, America wants to kick the proverbial "nuclear can" down the road and take the Islamic Republic off its to-do list by claiming victory.
Newly elected Israeli Prime Minister Naftali Bennett, Foreign Minister Yair Lapid, and Defense Minister Benny Gantz are well aware of what is happening in the negotiations and must figure out how best to approach the Biden administration about Israel's stance. As Lapid said to Secretary of State Tony Blinken, "Israel has some serious reservations about the Iran nuclear deal being put together in Vienna. We believe the way to discuss those disagreements is through direct and professional conversation."
The Bennett/Lapid team has made reconciliation with the Biden administration a priority. So will Bennett learn the lessons from Netanyahu's approach? Will Bennett accept a generous American defense sweetener with armaments that previously were off the table, while also insisting on ironclad written agreements with the U.S. that would trigger new sanctions or even kinetic measures if Iran crosses specified thresholds?
Furthermore, would an Israeli commitment affect its ability to strike Iran-backed militias in Syria, Lebanon and Iraq if, in the future, an American administration claims Israel's actions are provoking the Iranian regime and undermining the nuclear deal? And would any future American administration feel bound to honor an agreement negotiated by the Biden team if Iran crossed "red lines" agreed to today? Not likely. Biden is nearly an octogenarian, and Bennett's term will end in just under two years, assuming that Netanyahu doesn't force his government's collapse sooner. Would Netanyahu honor a Biden-Bennett agreement? Probably.
The Biden administration will not give Israel leeway to significantly strike Iranian nuclear facilities, nor will it bind future U.S. presidents to protect Israel in a written agreement, especially since America is moving troops out of the Middle East.
So, a more likely scenario is that Iran will rejoin the JCPOA for sanctions relief and continue to cheat on its commitments to the agreement. The United States will get to return to the JCPOA and pretend it is a significant achievement. The Israelis will be left to their own devices, which means a possible closing of ranks with the Gulf states, including Saudi Arabia. Who could have imagined just a few decades ago that the words "Israel," "Saudi Arabia" and "ally" could be put in the same sentence? Bringing the Saudis and Israelis together with American help would be greatly appreciated by Israel, and could be part of the "half a loaf" that Israel accepts on Iran.
Do you see where this is headed?
israel arabia peace is coming.
"and by peace shall destroy many"