Scripture to consider before the news:
"And he shall confirm the covenant with many for one week:"
The he referenced in the scripture of truth is "the prince of the covenant" which we here at the Watchman Report see it to be Prince Mohammed bin Salman of Saudi Arabia.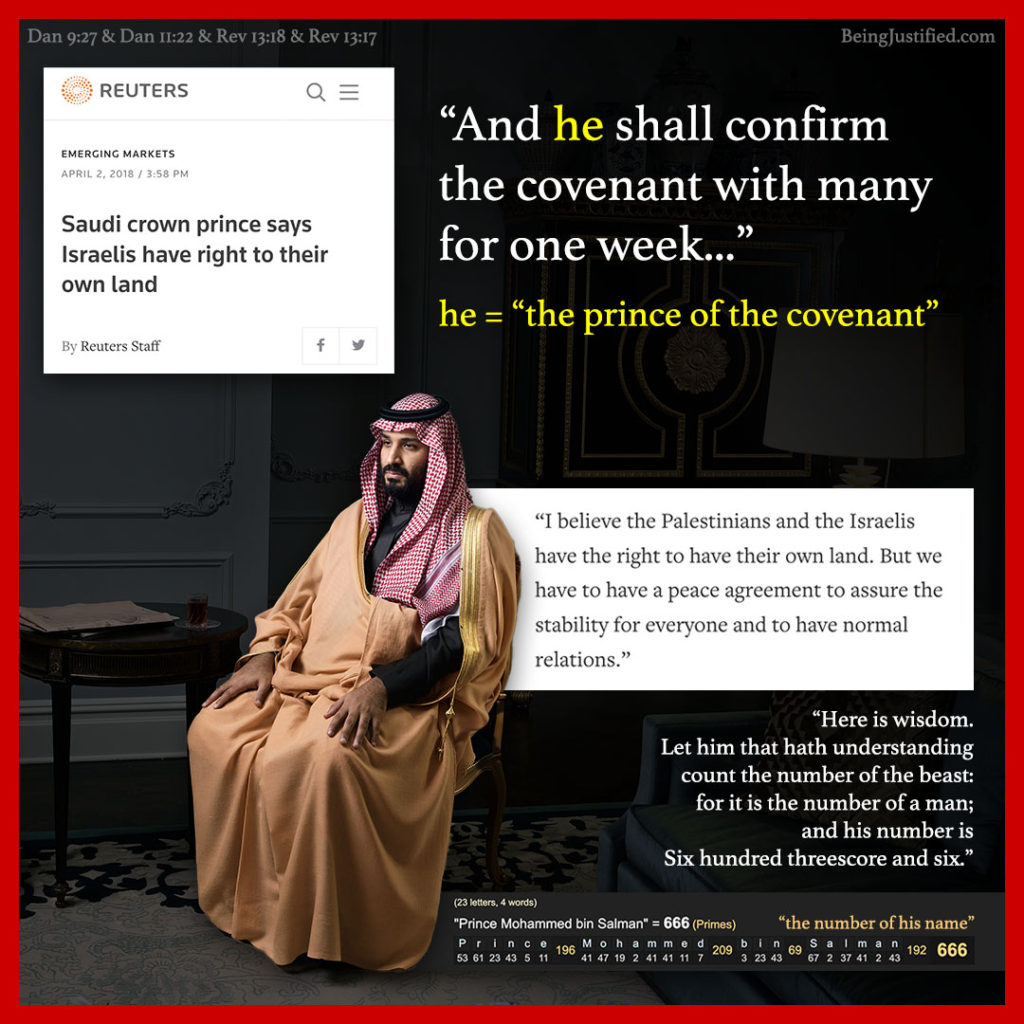 Some big reasons as to why are as followed:
"The number of his name" using gematria in the primes cipher is "the number of the beast" because "the prince of the covenant" and "the beast" are one-in-the-same person.
He also comes from a line of 5 kings that are fallen and one is, which is his father King Salman.
He also is head over one of the richest companies in the world named Aramco which also equates to the number of the beast in gematria.
The city in which it is located also has the number of the beast to it's name.
Also, the first king of Saudi Arabia has the number of the beast to his name.
How many 6 6 6 references does one man need? The most important being, the number of his name, Prince Mohammed bin Salman.
And did we mention he is a literal prince of the biggest Muslim country in the world which is home to 2 of the religion's biggest Mosques.
But keep in mind, he is only the 7th king, the real beast and "son of perdition" is Judas Iscariot which will ascend out of the bottomless pit in the middle of the upcoming 70th week when MBS is slain of a sword which is an attack referenced by the prophet Zechariah.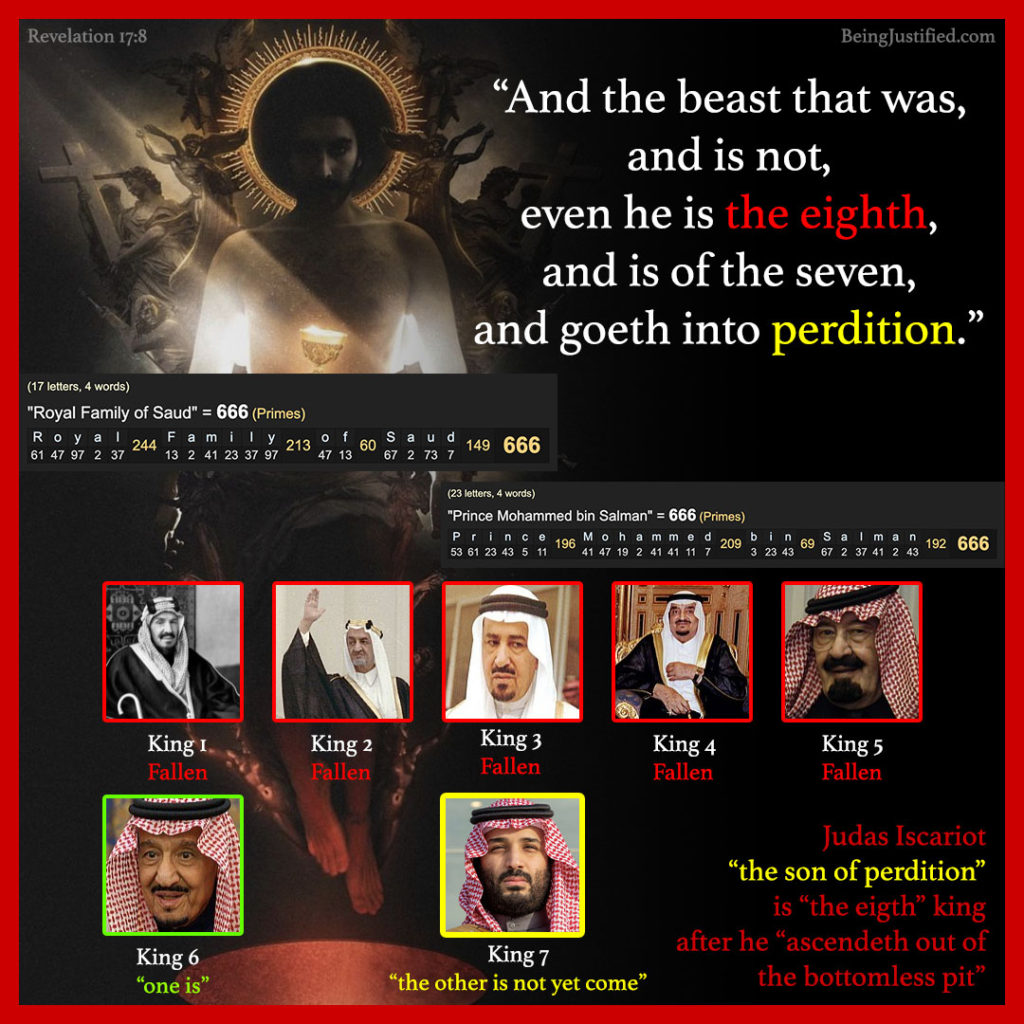 "Woe to the idol shepherd that leaveth the flock! the sword shall be upon his arm, and upon his right eye: his arm shall be clean dried up, and his right eye shall be utterly darkened."
42 months after MBS confirms the covenant with Israel will he have a mortal wound of a sword as told by Zechariah which will make his right eye blind, that is why you see the one-eye symbolism for the coming beast after he ascends from the bottomless pit after this mortal wound, even Judas Iscariot.
You will see in this report on how MBS is staying busy playing the diplomat now.
Soon when he confirms the covenant which is looking to be the Abraham Accords with Israel, the following scripture will be fulfilled.
"Because ye have said, We have made a covenant with death, and with hell are we at agreement; when the overflowing scourge shall pass through, it shall not come unto us: for we have made lies our refuge, and under falsehood have we hid ourselves:"
The we referenced is Israel.
Now unto the news:
Muhammad bin Salman of Saudi Arabia plays the diplomat
How long will it last?
As a young buck, Muhammad bin Salman, the Saudi crown prince, thought he could take on the world. He charged into Yemen, detained Lebanon's prime minister and had his people chop up a mild-mannered dissident, Jamal Khashoggi, in the Turkish city of Istanbul.
Things to consider: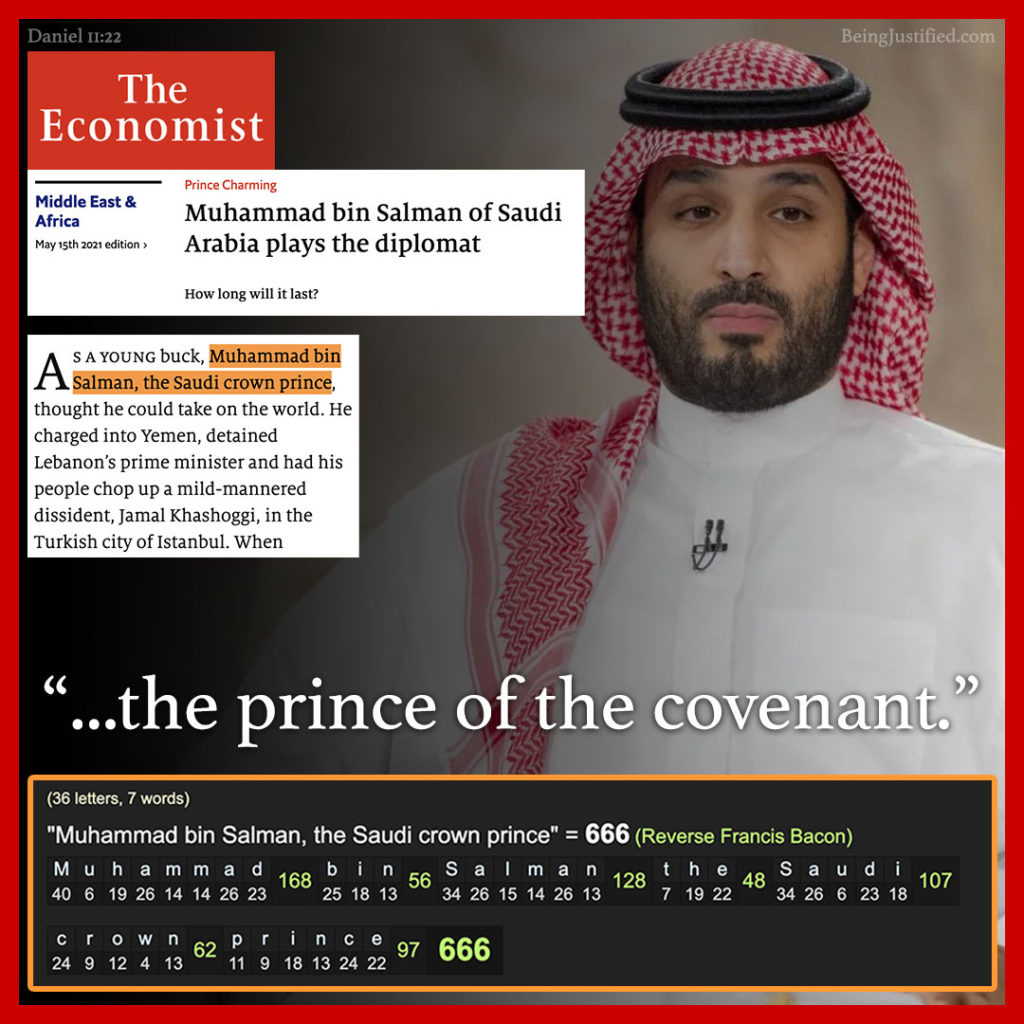 This article give us another 6 6 6 reference with 'Muhammad bin Salman, the Saudi crown prince.'
Coincidence, I think not.
Back to the news:
When Western countries, such as Canada and Germany, criticised his human-rights record, he recalled his ambassadors. When President Barack Obama made overtures to Iran, a Saudi rival, Prince Muhammad threatened to sell the kingdom's American assets. To the prince, Iran's supreme leader, Ayatollah Ali Khamenei, was akin to Hitler. He even tried to marshal an array of Arab and Sunni countries against Iran.
Six years after his father, Salman bin Abdelaziz, became king, the prince, now in his mid-30s, may be changing, switching tactics from maximum pressure to maximum diplomacy, cutting his losses and trying to defuse conflicts. Facing resistance in the region and disapproval from President Joe Biden, he may have decided that the cost of his foreign ventures is unsustainable. Saudi foreign policy has begun to look much less aggressive.
So far this year he has held two rounds of talks with Iran in Baghdad, the Iraqi capital, and spoken of his hope for "a good and special relationship". His officials have met his Yemeni foes, the Iranian-backed Houthi rebels, in the Omani capital, Muscat. The Saudis offered to lift the kingdom's siege of Yemen and to help rebuild the country his jets have bombed. He has also stopped funding the rebellion against Syria's ruler, Bashar al-Assad; earlier this month he sent his intelligence chief to Damascus to discuss restoring ties.
Prince Muhammad is mending fences with Turkey and Qatar as well. Both had irritated him by backing Islamist groups that he dislikes, such as Egypt's Muslim Brotherhood. But the prince has lifted a three-year blockade of Qatar and bought arms from Turkey. On May 10th he hosted Turkey's foreign minister, Mevlut Cavusoglu, and Qatar's emir, Tamim bin Hamad al-Thani. "He's dispensed with polarisation," says Oraib Rantawi, a Jordanian analyst. "A new wind is blowing."
Friends say Prince Muhammad has matured. Others say he is a bully who has been chastened by those he knows to be more powerful. He promised to take Yemen's capital, Sana'a, quickly. Instead, the Houthis have made incursions into Saudi Arabia. Iran and its regional proxies have flung missiles at Saudi airports, palaces and oil installations. Ships in the kingdom's Red Sea ports have come under repeated attack. In 2019, after drones struck the kingdom's oil-processing hub at Abqaiq, halving Saudi oil output, no one came to his rescue, not even President Donald Trump. The prince's allies in the Gulf have abandoned his campaign in Yemen.
During his election campaign President Joe Biden called the kingdom a pariah, accusing it of murdering children in Yemen, and vowed to end American sales of arms. He has since toned down his disapproval but is still calling for an end to the war. Soon after Mr Biden took office, the prince dropped his refusal to talk to Iran and freed Loujain al-Hathloul, the kingdom's most prominent rights activist.
The prince has also been held back by a stalling economy. The pandemic and low oil prices have hurt, while the conflict in Yemen has drained his war chest. And his unpredictability has deterred foreigners from investing in Vision 2030, his grandiose reform programme.
Tension with Iran in the Strait of Hormuz, the conduit for most Saudi oil exports, and the difficulty of building a post-oil economy have altered the prince's plans. In search of alternative trade routes, he is expanding ports on the Red Sea and building a high-speed rail link from west to east. He is also forging a Red Sea council to spur development in all the littoral states and to open a gateway into Africa. His "smart" megacity, Neom, and a vast tourist complex in the kingdom's north-west are meant to bolster economic links with Egypt, Jordan and, perhaps one day, Israel.
Meanwhile, he has trimmed the kingdom's bankrolling of an array of Arab and Muslim causes, such as the Palestinians, whom he recently failed to mention in a three-hour interview. He has cut aid to Pakistan, failed to prop up Lebanon, and slashed mosque-building projects that used to spread the kingdom's religious conservatism across the world. Defying puritanical clerics who consider Shias heretics, he has played host to some from Iraq.
Prince Muhammad can still, however, annoy his Arab neighbours. His demand that companies doing business with Saudi Arabia should move their regional headquarters to the kingdom has upset Muhammad bin Zayed of Abu Dhabi, the de facto ruler of the United Arab Emirates, the region's trading hub. And he can still be impulsive. Though he lifted his blockade of Qatar, he recently slapped bans on imports from Jordan, Lebanon and Turkey after their governments displeased him. Prince Charming can still bare his teeth.
Don't forget to subscribe to this channel and click the notification bell so you can get notified whenever new bible prophecy news videos are uploaded.
In related news:
'Times have changed': Saudi Arabia-Syria in rapprochement talks.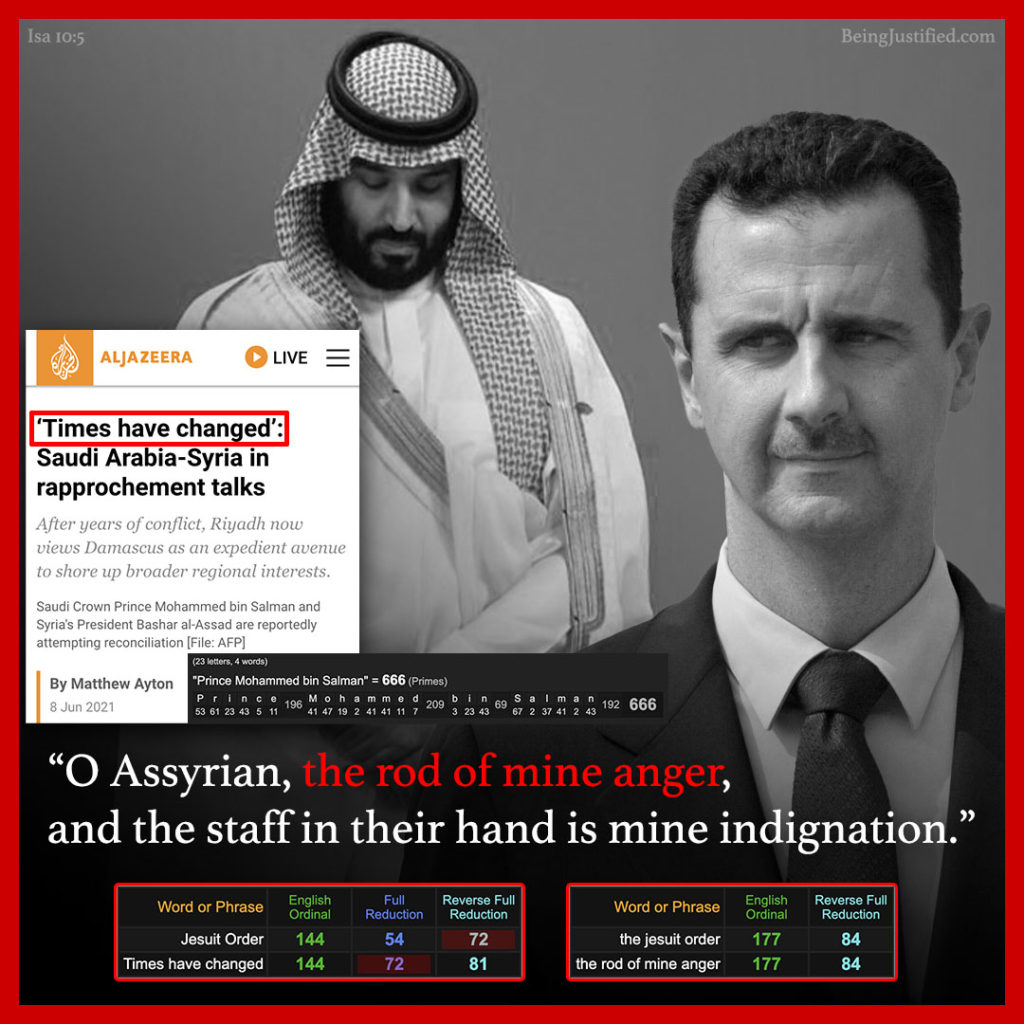 After years of conflict, Riyadh now views Damascus as an expedient avenue to shore up broader regional interests.
Saudi Arabia is close to reaching an agreement on diplomatic normalisation with President Bashar al-Assad's government, as Riyadh jockeys to play a lead role in removing the Iranian presence from Syria, Al Jazeera has been told by those with close knowledge of the discussions.
According to a senior official from the Syrian opposition Free Officer's Movement, who maintains close contacts within the Saudi Ministry of Foreign Affairs and General Intelligence Directorate (GID), "the political mood within the House of Saud has changed, many senior royals, particularly Mohammad bin Salman [MBS] himself, are keen to reengage with Assad".
"The prevailing attitude can be defined as, 'times have changed, the Arab Spring is history and the region is transitioning towards a new future, with new geopolitical characteristics,'" the official, who himself recently reconciled with Damascus after defecting to the Syrian opposition in the summer of 2011, added.
The discussion came on the heels of a report in early May, which claimed Riyadh had dispatched an intelligence delegation led by GID Director General Khalid Humaidan to Damascus to engage in discussions on the possibility of detente between the two erstwhile foes. Also in May, Syria dispatched its first ministerial delegation in 10 years to Riyadh, led by the Minister of Tourism Rami Martini.
From the Syrian conflict's earliest days, Saudi Arabia had been a key player in supporting the proxy war aimed at toppling al-Assad. Riyadh supplied an array of local rebel groups with finances and weaponry, including US-made anti-tank missiles, as part of the effort. The campaign faltered following larger counter-interventions by al-Assad's chief foreign patrons, Russia and Iran.
However, Saudi Arabia now appears to view the corridors of power in Damascus as an expedient avenue for shoring up its broader regional interests.
According to a Damascus-based official from the Syrian Ministry of Foreign Affairs who was privy to the recent talks with Riyadh, "MBS is engaged in efforts to defuse tensions with The Islamic Republic of Iran by engaging with Syria."
According to the official, "MBS instructed his team to reassure Syria that he does not want regime change against Bashar, and that Syria, as a brotherly Arab nation, should naturally be close to Saudi Arabia".
The official claimed this was "clearly also intended as a signal" to the Iranian leadership that Riyadh "recognises that the side of the war in which … [Iran] most heavily invested won, and that it will not try to challenge that reality".
The official, while refusing to confirm, also alluded to the possibility of an Iranian presence at the Damascus meeting, saying, "let's just say the Iranians were immediately very welcoming to what they heard".
In May, Iraqi President Barham Salih confirmed reports from April that said Saudi Arabia and Iran held bilateral talks in Baghdad in a bid to soothe simmering tensions. Allegedly, those discussions focused largely, although not exclusively, on resolving the war in Yemen, where the Royal Saudi Air Force has been engaged in an air campaign since mid-2015 against Iran-aligned Houthi rebels.
However, while simultaneously seeking to cool tensions with Iran to avoid military conflict, Saudi Arabia's effort also constitutes the reincarnation of the decades-old quest among Sunni Gulf monarchies to peel Syria away from Tehran's strategic orbit.
This is now seen as all the more urgent as the tide of the Syrian civil war recedes and Iran continues to reap the post-conflict benefits of its intervention by establishing a deep and influential foothold across government-held areas, particularly in the form of a vast network of Shia militias and institutions.
According to the well-connected figure from the Free Officer's Movement, "the Saudi officials made clear to the [Syrian] government that they want to re-normalise relations, but any support for Syria in the diplomatic field will need to be preceded by signs that Assad is serious about reducing the influence of the Iranian hand in Damascus … expelling the Iranian militia, and ending [Iran's] and Hezbollah's exploitation of Syria as a giant military base."
Yet, even if al-Assad had the political will to do so, it is doubtful he has the capability to extirpate Iran's vast network of proxy militiamen, whose help he needs to keep the remnants of his armed opponents at bay.
As Syrian analyst Samir Altaqi recently wrote, "the Syrian army is fractured and weak. Assad is in no position to substitute or even confront the vitally needed and deeply rooted pro-Iranian forces in Syria".
According to the Free Officer's Movement official, the Saudis appear to have for now accepted this strategic reality, and have offered the Syrian government something of a compromise position on the Iranian presence.
"The Saudis acknowledge that the Iranians will continue to have covert political influence in Damascus as they do in Baghdad, but they and the UAE [United Arab Emirates] want Assad to pressure the Iranians to at least reduce their build-up of strategic military assets, like the missile storage and production bases."
The Saudi-Syrian dialogue follows a recent Russian-facilitated meeting held between representatives of the Israeli and Syrian governments, at which Iran's military presence was also discussed.
Riyadh, according to the Syrian foreign ministry official, "sees our talks with the Israelis as a possible prelude to behind-the-scenes talks with the US, especially at a time when the new Biden administration wants to leave the Middle East and may, therefore, accept the status-quo in Syria".
An official in the Biden National Security Council, however, poured cold water on the idea of any rapprochement with al-Assad's government.
"The United States supports free and fair Syrian elections as called for under UN Security Council Resolution 2254. We will not give legitimacy to the murderous Assad regime. Our allies in the region will do what they see as in the interests of their national security. However, we believe it is in their best interests not to engage with Assad," said the US official, also on condition of anonymity.
Lastly:
US working on more normalization between Israel, Arab states.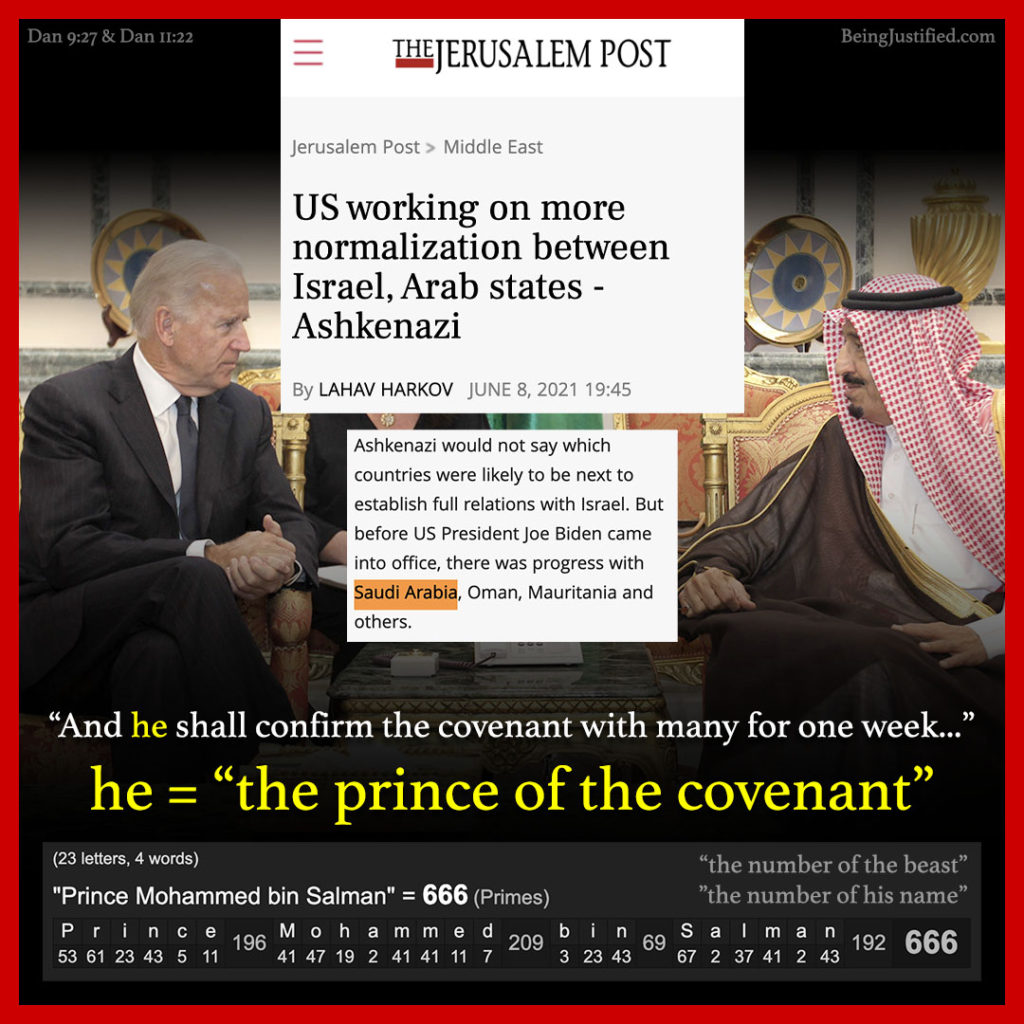 The Biden administration is actively involved in encouraging more Arab states to establish diplomatic relations with Israel, Foreign Minister Gabi Ashkenazi said Tuesday.
"They fully adopted the Abraham Accords and are eager to expand them," he said. "There is going to be someone appointed to be responsible for doing so."
The Biden administration is considering appointing former US ambassador to Israel Dan Shapiro as a Middle East envoy responsible for handling the continuation of the Abraham Accords, The Washington Post reported last week.
The Biden administration does not use the Trump-era name "Abraham Accords," instead calling them "normalization agreements."
In a briefing summing up his time in the Foreign Ministry, as a new government is expected to be sworn in on Sunday with Yair Lapid taking his place, Ashkenazi said he is in daily contact with Washington.
Ashkenazi would not say which countries were likely to be next to establish full relations with Israel. But before US President Joe Biden came into office, there was progress with Saudi Arabia, Oman, Mauritania and others.
Ashkenazi also said he was in contact with several of his counterparts in countries with which Israel does not have formal ties.
Ashkenazi is a cofounder of the Abraham Accords Institute for Peace, founded by top Trump aide Jared Kushner to deepen ties between Israel and Arab countries, and he plans to take part in the institute's activities after he leaves office.