PODCAST FOR THIS EPISODE:
Scripture to consider before the news:
"And he causeth all, both small and great, rich and poor, free and bond, to receive a mark in their right hand, or in their foreheads: And that no man might buy or sell, save he that had the mark, or the name of the beast, or the number of his name. Here is wisdom. Let him that hath understanding count the number of the beast: for it is the number of a man; and his number is Six hundred threescore and six."
The he that will cause all to receive the mark of the beast in the middle of the upcoming final prophetic 70th week for Israel will be the final pope who is the false prophet aiding the beast into his global one world government, religion and digital currency in the right hand or forehead to buy or sell.
You will see with the following news that the great Vatican City that reigns over the kings of the earth via her Jesuit militia as per Revelation 17:18 is on the move with their Jesuit tool in the Philippines.
Now unto the news:
Philippine President Rodrigo Duterte threatens to jail those who refuse Covid-19 vaccine.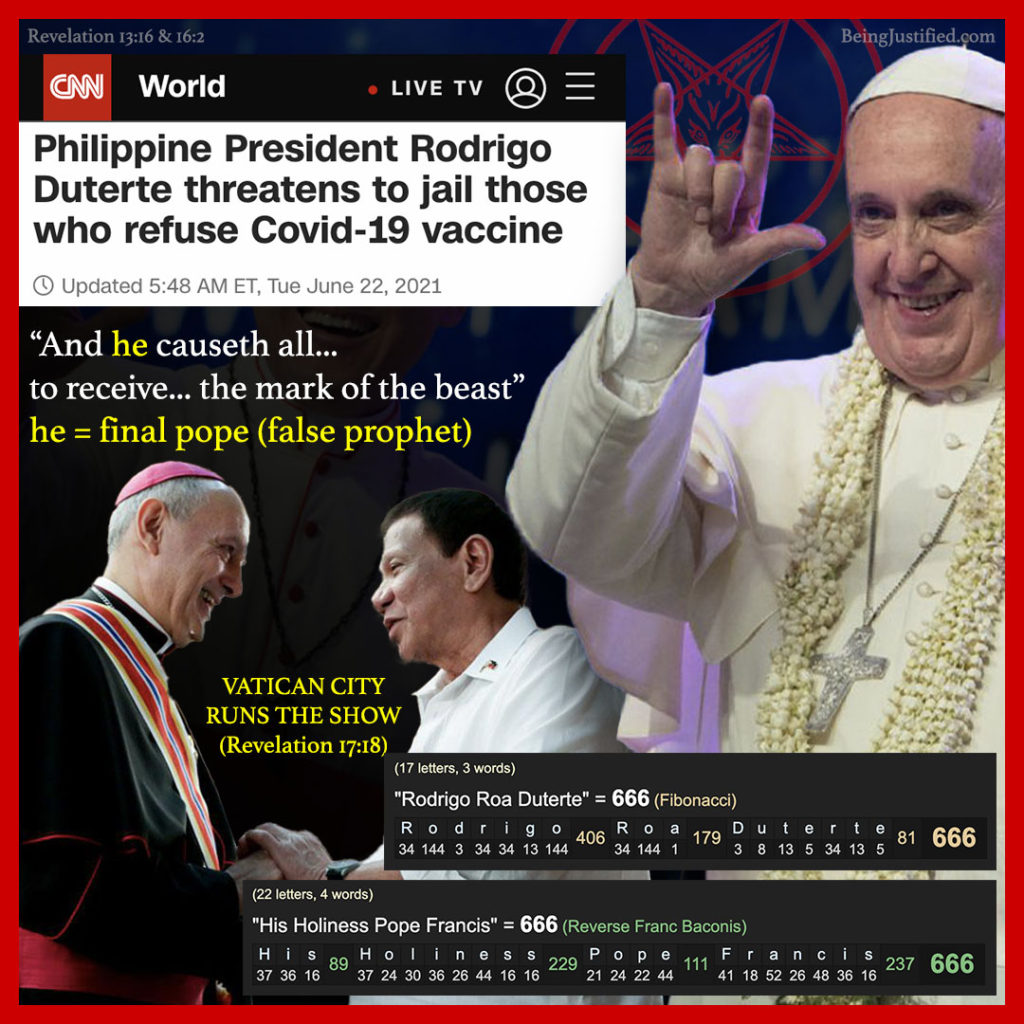 Philippine President Rodrigo Duterte has threatened to jail people who refuse to be vaccinated against the coronavirus as his country battles one of Asia's worst outbreaks, with more than 1.3 million cases and 23,000 deaths.
"You choose, vaccine or I will have you jailed," Duterte said in a televised address on Monday following reports of low turnouts at several vaccination sites in the capital, Manila.
Duterte's remarks contradict those of his health officials, who have said that while people are urged to receive the Covid-19 vaccine, it was voluntary.
"Don't get me wrong, there is a crisis in this country," Duterte said. "I'm just exasperated by Filipinos not heeding the government."
As of June 20, Philippine authorities had fully vaccinated 2.1 million people, making slow progress toward the government's target to immunize up to 70 million people in the country of 110 million this year.
Duterte, who has been criticized for his tough approach to containing the virus, also stood by his decision not to let schools reopen.
In other news:
Bennett: We are facing a new outbreak – don't go abroad.
Prime Minister Naftali Bennett visited Ben Gurion Airport Tuesday as Israel deals with the soread of the Delta variant of the coronavirus.
"The Delta strain, the Indian strain, is spreading rapidly around the world," Bennett said. "Its infection rate is much higher than we realized. It infects about 50% more than the original corona strain and we are seeing the beginning of its spread within Israel. We do not always know how to locate the source. It also infects people who have been vaccinated. You can get vaccinated and get infected."
"We have seen in other countries like the UK a significant increase in child hospitalizations," the prime minister continued. "So we made an initial decision to treat it as a new outbreak – and our goal is to interrupt it; take a bucket of water and pour it over the fire when it is still small."
"I ask those who do not have to go abroad – don't go abroad," Bennett said. "The contagion incident in Binyamina originated with a family who came from a vacation in Cyprus. If it is possible to give up the holiday – I recommend not booking."
"We officially call on all children and teens ages 12 and up to get vaccinated as soon as possible. There's a lot of Fake News. I'm vaccinating my kids." Bennett added that he "recommends wearing masks indoors again."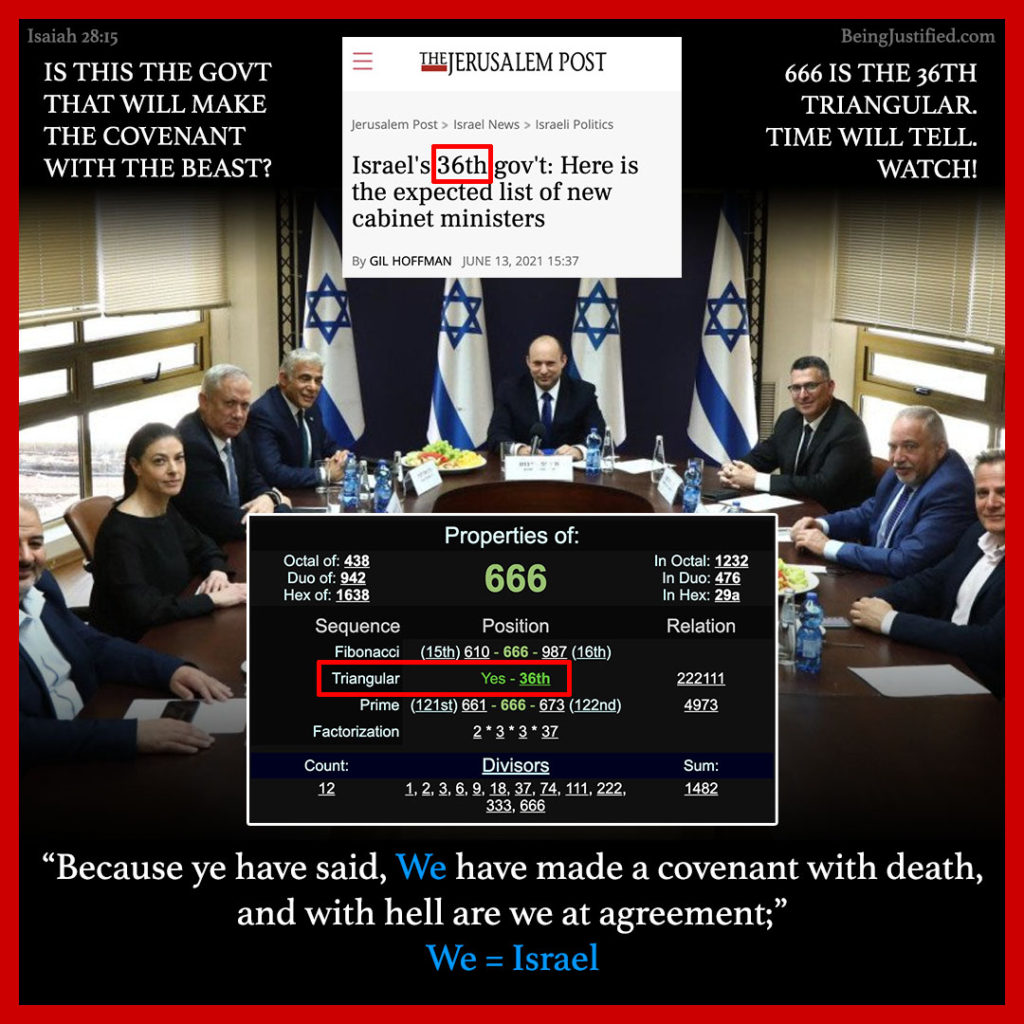 Scripture to consider:
"But evil men and seducers shall wax worse and worse, deceiving, and being deceived."
This present evil world will wax worse and worse unto the kingdom of the beast, which is the new world order after the beast ascends from the bottomless pit, even Judas Iscariot, the son of perdition.
Don't forget to subscribe to this channel and click the notification bell so you can get notified whenever new bible prophecy news videos are uploaded.
In other news:
Abu Dhabi offers tourists free coronavirus vaccines.
Abu Dhabi is reportedly providing free COVID-19 vaccines to tourists as the United Arab Emirates pushes ahead with one of the world's fastest vaccination campaigns.
The Associated Press reports that the Emirati capital hasn't made an official announcement, but the health authority's mobile app updated its vaccine access criteria to say that visitors from abroad could now get a jab. The vaccines will be offered only to those whose passports allow them to receive visas on arrival.
Previously, only citizens and residents were eligible to receive the Sinopharm, Pfizer-BioNTech, Sputnik V or AstraZeneca vaccines that are provided free of charge in the United Arab Emirates.
The news comes as Abu Dhabi prepares to further loosen restrictions aimed at preventing the spread of the coronavirus. Beginning July 1, the UAE's capital city will no longer require travelers from certain low-risk countries, including the United States, to quarantine upon arrival.
Lastly:
Iranian websites have been seized by US.
Notices appeared on Tuesday on a number of Iran-affiliated websites saying they had been seized by the United States government as part of law enforcement action.
Iranian news agencies said that the U.S. government had seized several Iranian media websites and sites belonging to groups affiliated with Iran such as Yemen's Houthi movement.
A U.S. Justice Department spokesperson had no immediate comment. Two U.S. government sources indicated that the Justice Department was preparing an announcement on this issue.
Last October, U.S. prosecutors seized a network of web domains which they said were used in a campaign by Iran's Revolutionary Guard Corps (IRGC) to spread political disinformation around the world.
The U.S. Justice Department said then that it had taken control of 92 domains used by the IRGC to pose as independent media outlets targeting audiences in the United States, Europe, Middle East and Southeast Asia.
Let us see what the Vatican Iran tool will do with their new puppet president actor in place to further foment war for the Jesuit order to get us to the covenant with the prince of Saudi Arabia to start "the last days."