Podcast
Scripture to consider before the news:
"And he shall confirm the covenant with many for one week: and in the midst of the week he shall cause the sacrifice and the oblation to cease, and for the overspreading of abominations he shall make it desolate, even until the consummation, and that determined shall be poured upon the desolate."
The he that will confirm the covenant (which is looking like the abraham accords) with many is the prince of the covenant who is looking to be Prince Mohammed bin Salman of Saudi Arabia. This week we have Jesuit Joe Biden touching down on a trip to the middle east that will include Israel and Saudi Arabia which comes 666 days after the abraham accords were signed in Washington DC on September 15, 2020.
Let us see now what the schedule is looking like for POTUS.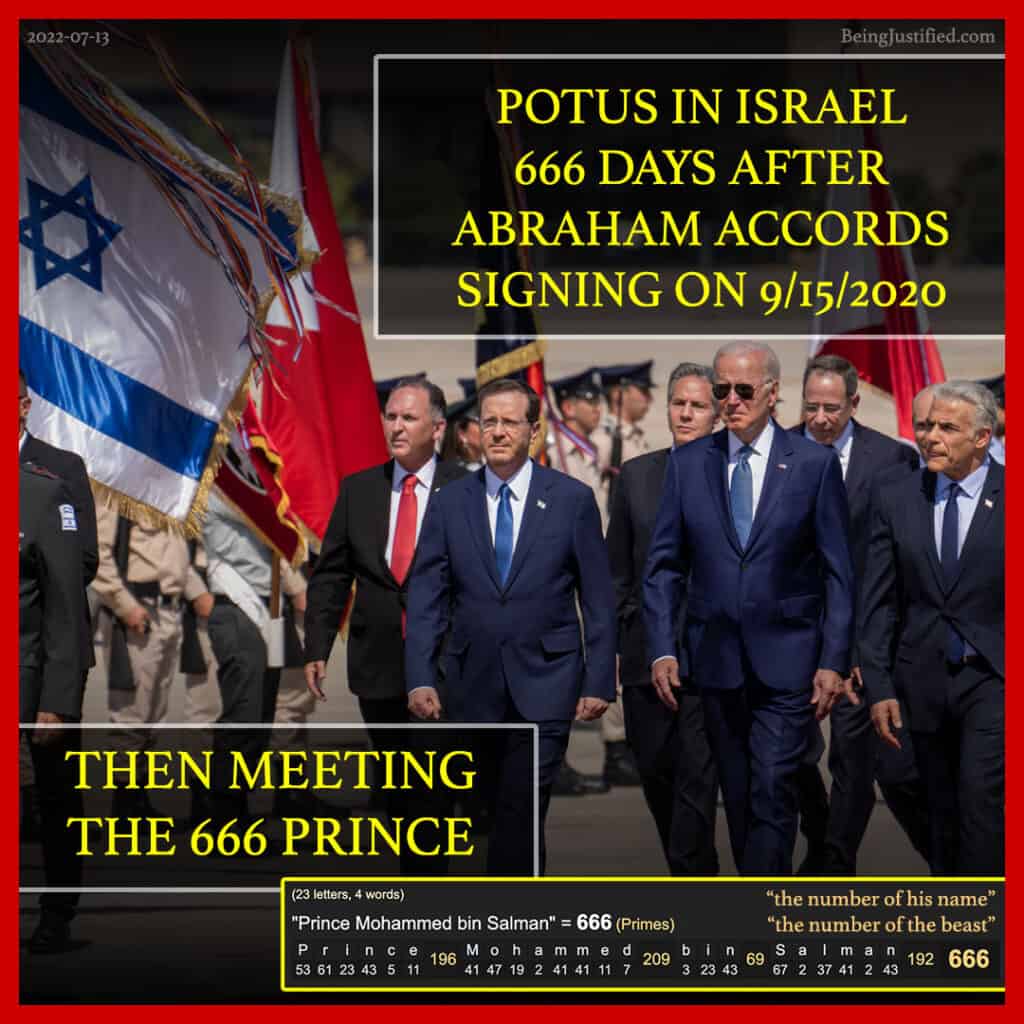 Now unto the news: Biden heads to region with hopes for Israeli-Saudi ties looming over packed schedule.
US President Joe Biden departed Washington for the Middle East on Tuesday night as speculation peaked in Israel that he would deliver a breakthrough in ties between the Jewish state and one of the region's most prominent Muslim countries.
Biden touched down at Ben-Gurion airport on Wednesday afternoon local time. There he will kick off a four-day trip to Israel, the West Bank and Saudi Arabia aimed at further solidifying bilateral ties with Jerusalem, providing assurances to the Palestinians that his administration is still proactively committed to the two-state solution, and coaxing the Gulf kingdom to increase its oil production and coordinate with regional partners on Iran.
In Israel, the leadup to the trip has sparked feverish excitement over the potential for bringing its long-hushed correspondences with Saudi Arabia a bit more out into the open.
On Tuesday, a senior Israeli official briefing reporters ahead of Biden's arrival said that there would soon be an announcement regarding the "immediate materialization" of a normalization process between Israel and Saudi Arabia, without providing details.
Washington is in the midst of brokering talks to transfer a pair of Red Sea islands from Egypt to Saudi Arabia in a deal that would see Riyadh take small steps toward formal diplomatic ties with Jerusalem, a Middle East diplomat told The Times of Israel last week.
Israel handed over control of the islands, Tiran and Sanafir, to Egypt as part of their 1979 peace agreement, but the sides agreed to demilitarize the islands and to allow the presence of a multinational observer force. Israel is now seeking similar assurances from Saudi Arabia in order to sign off on the deal, but Riyadh has been hesitant to put the commitment in writing, the Middle East diplomat said.
If inked, the agreement would see Saudi Arabia allow Israeli flights to the Far East to use its airspace in addition to rolling out direct flights between the two countries for Muslim pilgrims to Mecca and Medina, the diplomat said.
The White House hopes to finalize the agreement in time for Biden's arrival in Jeddah on Friday, though the same diplomat on Tuesday put the likelihood of that happening at 50 percent.
The deal has faced significant hurdles due to the fact that Riyadh doesn't have formal ties with Israel, which wants to safeguard its freedom of navigation around the Tiran Straits, where Tiran and Sanafir islands are located.
Riyadh has also been hesitant to put details of the agreement in writing, much to Israel's discomfort, the diplomat said.
The efforts to broker a deal with Saudi Arabia are also awkward for the US administration; Biden had spoken of turning the country into a "pariah" before a global energy crisis and other factors made it nearly impossible for him to blackball Riyadh.
Now he is turning to the kingdom for a foreign policy win to reverse floundering approval ratings back home.
Biden and Lapid are slated to hold talks late Thursday morning and will participate in a high-level meeting of the new I2U2 forum with Indian Prime Minister Narendra Modi and United Arab Emirates President Mohamed bin Zayed.
Lapid and Biden will then hold a 1:30 p.m. press conference at the Waldorf Astoria Hotel where they will deliver prepared remarks and take several questions.
The president is slated to meet Israeli counterpart Isaac Herzog at his official residence on Thursday afternoon. After brief talks, Biden will be presented with a medal of honor and deliver brief remarks, according to an official schedule.
On Friday morning, Biden will head to the Augusta Victoria Hospital on East Jerusalem's Mount of Olives, where he will announce a $100 million funding package for the East Jerusalem Hospital Network that treats Palestinians, an Israeli and a US official said. It will be the first visit by a sitting US president to the largely Palestinian section of the capital outside of the Old City.
Biden will meet with Palestinian Authority President Mahmoud Abbas in Bethlehem at 11:30 a.m. There, he will likely face tough questions over last week's announcement by the US that it did not find Israel to have intentionally killed Al Jazeera reporter Shireen Abu Akleh in clashes that broke out during an IDF raid of Jenin on May 11.
Biden will head back to Ben Gurion Airport for a 3:30 p.m. flight to Jeddah, though he may make a brief stop on the way at Bethlehem's Church of Nativity, if time permits.
The flight to Jeddah will make Biden the second US president to fly directly from Israel to Saudi Arabia; George W Bush did so in 2008; Donald Trump flew in the opposite direction in 2017. There, he will participate in a regional summit known as the GCC+3 with Gulf Cooperation Council members Bahrain, Kuwait, Oman, Qatar, Saudi Arabia and the United Arab Emirates along with Egypt, Jordan and Iraq.
Biden will make a "major statement" on his vision for the Middle East region during the summit, said Jake Sullivan, the president's national security adviser.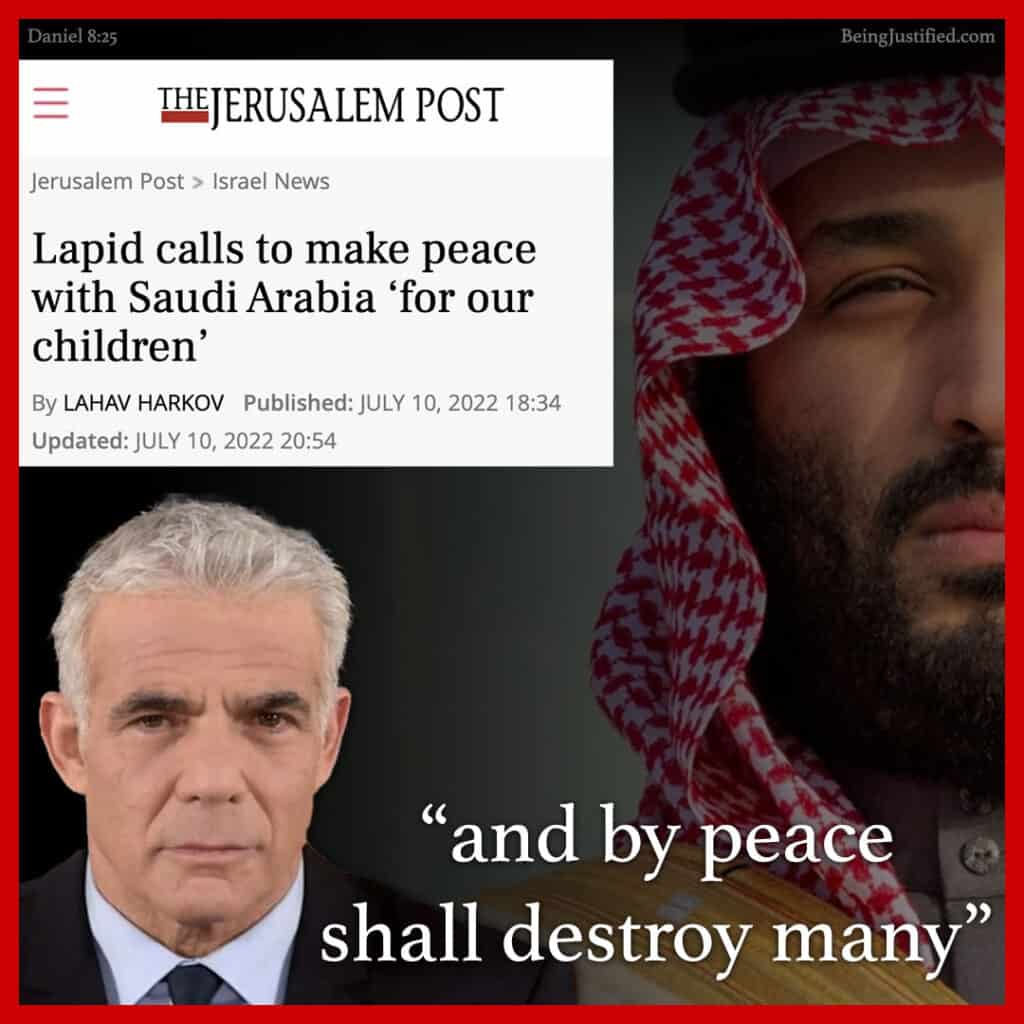 In related news: Lapid calls to make peace with Saudi Arabia 'for our children.'
Scripture to consider: "Because ye have said, We have made a covenant with death, and with hell are we at agreement; when the overflowing scourge shall pass through, it shall not come unto us: for we have made lies our refuge, and under falsehood have we hid ourselves:"
This is the scripture from the book of the prophet Isaiah that shows you the deal with the beast that Israel will make when the prince of the covenant confirms the covenant with them.
The question now is, will this current Israeli government be the one that fulfills that scripture. Time will soon tell.
Back to the news: The time has come for countries of the region to normalize ties with Israel with an eye to the future, Prime Minister Yair Lapid said at Sunday's cabinet meeting.
Lapid's remarks came at the start of the week in which US President Joe Biden plans to visit Israel and then fly directly to Saudi Arabia. Biden wrote in an op-ed at The Washington Post on Saturday that the flight symbolized "budding relations and steps towards normalization" between Israel and Arab states.
"From Jerusalem, the president's plane will fly to Saudi Arabia," Lapid said. "He will carry with him a message of peace and hope from us. Israel extends its hand to all the countries of the region and calls on them to build ties with us, establish relations with us, and change history for our children."
Calling Biden "one of the closest friends that Israel has ever had in American politics," Lapid quoted the president as saying: "You don't have to be a Jew to be a Zionist. I am a Zionist."
Lapid said the priority on his agenda for meeting with Biden is the Iranian nuclear threat, pointing out recent reports that the Islamic Republic is enriching uranium with even more advanced centrifuges than previously known, in violation of the 2015 nuclear deal.
The prime minister called for a "decisive" international response, consisting of activating snapback sanctions, meaning the reinstatement of pre-2015 sanctions on Iran.
"Israel, for its part, reserves for itself full freedom of action, diplomatic and operational, in the fight against the Iranian nuclear program," he said. "Israel will not stand idly by while Iran tries to attack us."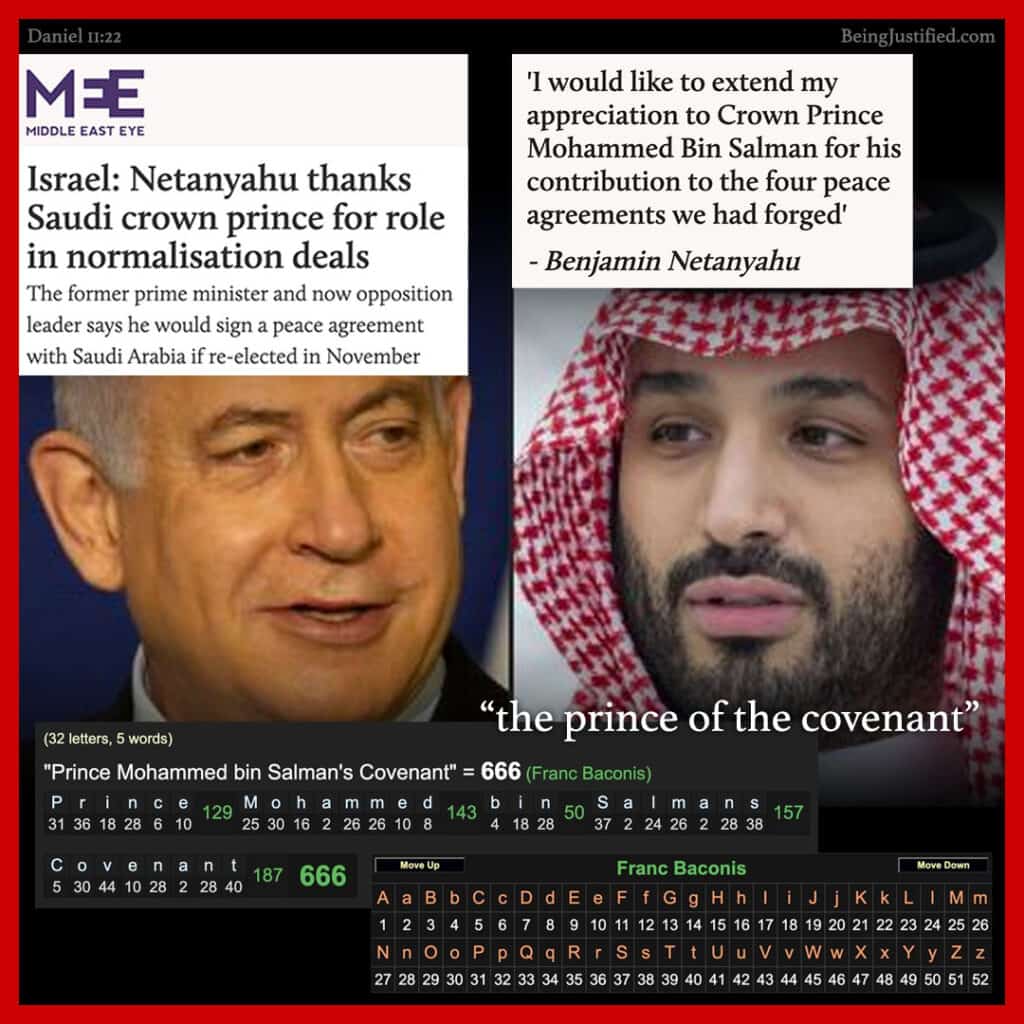 In related news: Netanyahu thanks Saudi crown prince for role in normalisation deals.
Former Israeli Prime Minister Benjamin Netanyahu has hailed Saudi Crown Prince Mohammed Bin Salman's role in negotiating normalisation agreements between Israel and Arab states and promised "peace" with Saudi Arabia if he returns to office.
Netanyahu, who was ousted as prime minister last year, has been looking to make a comeback and has touted his role in warming relations with the Arab world in the run-up to another round of elections in November.
Speaking at a press conference on Monday, Netanyahu hailed the upcoming regional trip by US President Joe Biden, which will see him travel by direct flight between Israel and Saudi Arabia, as evidence of his achievements in the Middle East.
"This is an important visit because from here, the president will fly to Saudi Arabia," he said.
"A direct flight is an expression of the massive change we have brought to the Middle East. Our policy has truly created a new Mideast."
During his tenure, Netanyahu signed the Abraham Accords – overseen by then US President Donald Trump – which normalised relations between Israel and the United Arab Emirates, Bahrain, Morocco and Sudan.
"I would like to extend my appreciation to Crown Prince Mohammed Bin Salman for his contribution to the four peace agreements we had forged," Netanyahu told the press.
"I intend to sign a comprehensive peace treaty with Saudi Arabia and other Arab nations… our next peace agreements will bring us closer to ending the Arab-Israeli conflict."
Will the Jesuit Benjamin Netanyahu be the one to get this world into the 70th week if not done this week? Time will tell.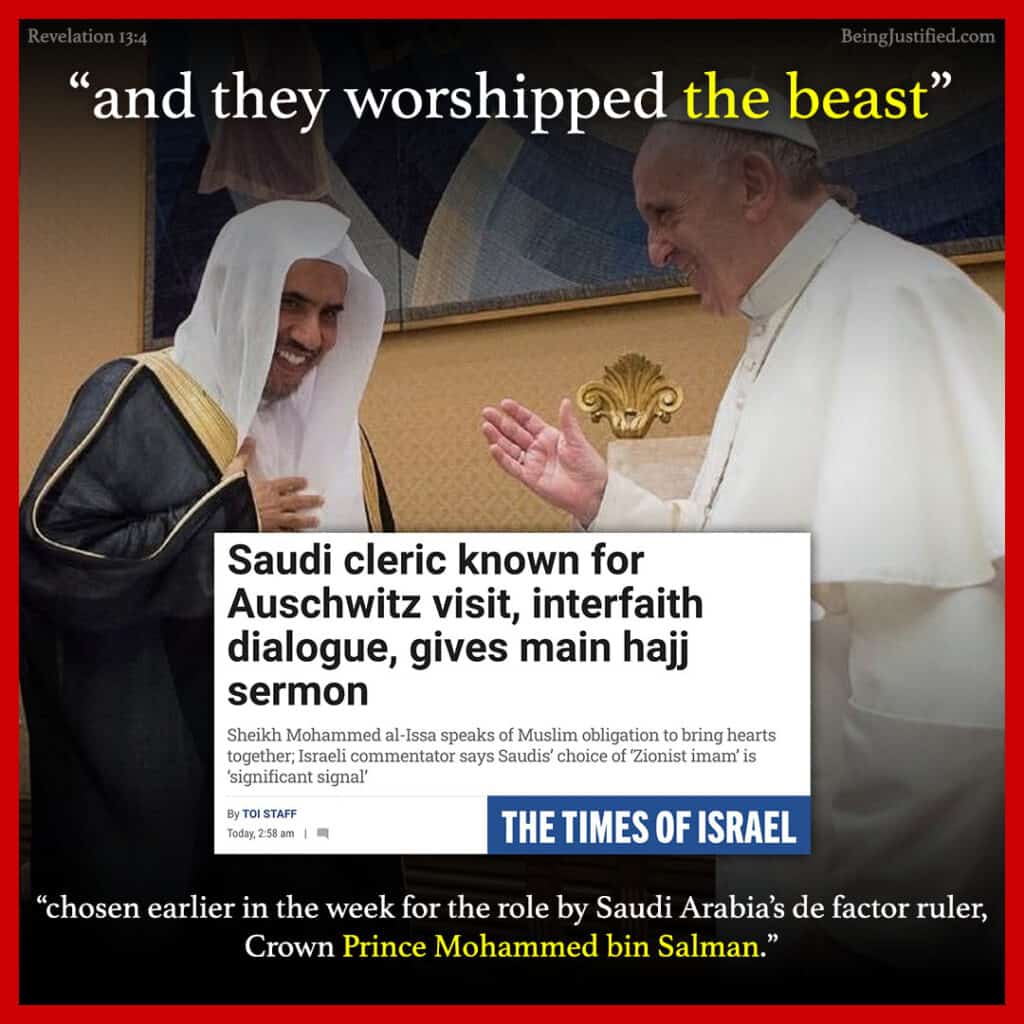 Lastly: Saudi cleric known for Auschwitz visit, interfaith dialogue gives main hajj sermon.
Scripture to consider: And I saw one of his heads as it were wounded to death; and his deadly wound was healed: and all the world wondered after the beast. And they worshipped the dragon which gave power unto the beast: and they worshipped the beast, saying, Who is like unto the beast? who is able to make war with him?
42 months after the 6 6 6 prince confirms the covenant with Israel will he be slain of a sword and yet live. The final pope will aid in creating a one world religion around worshipping the risen beast.
The following last news piece shows you how the religion of Islam is being prepared in the prince's very own homeland.
A cleric known for visiting Auschwitz and for his involvement in interfaith dialogue gave the main sermon at the height of the annual hajj pilgrimage at the Nimrah Mosque on Mount Arafat outside Mecca on Friday, after being chosen earlier in the week for the role by Saudi Arabia's de factor ruler, Crown Prince Mohammed bin Salman.
The decision to give the honor to Sheikh Dr. Mohammed bin Abdul Karim al-Issa, the head of the Muslim World League, was read by veteran Channel 12 Arab affairs analyst Ehud Ya'ari as "a significant signal" from Saudi Arabia regarding its attitude towards normalization with Israel. Ya'ari said Al-Issa, who has invited rabbis to Saudi Arabia and has visited Yeshiva University in New York, is known in the country as the "Zionist imam."
The speech came days ahead of US President Joe Biden's visit to Israel and Saudi Arabia this week, and amid expectations that the trip will feature steps toward a further warming in ties between the two countries. Jerusalem and Riyadh do not have formal relations but appear to be moving closer amid shared concerns over Iran.
In his sermon on Friday, Al-Issa spoke of the five pillars of Islam, and urged acceptance, harmony, and compassion. He said Islam's teachings were strictly humanitarian, "whose standards do not become compromised and whose foundations do not become altered," according to the Saudi Gazette, which carried the full speech.
"Among the values taught by Islam are avoiding all that leads to dissent, animosity, or division; and instead, ensuring that our interactions are dominated by harmony and compassion," he said.
Al-Issa has been intensely involved in interfaith activities, in particular in outreach to Jewish communities, and has been vocal against antisemitism.
This man has also gone to the mystery babylon Vatican city to meet the jesuit pope who runs the show for the coming world kingdom of the beast.