Israel's opposition declares new government, set to unseat Netanyahu.
Israel's opposition leader moved closer to unseating Prime Minister Benjamin Netanyahu when he officially told the country's president that he has reached agreements with political allies to form a new government.
About 35 minutes before a Wednesday midnight deadline, the centrist Yair Lapid told President Reuven Rivlin in an email: "I am honored to inform you that I have succeeded in forming a government."
Rivlin, attending Israel's soccer cup final at the time, congratulated Lapid by phone, according to his office.
Lapid's main partner is nationalist Naftali Bennett, who would serve as prime minister first under a rotation between the two men. Lapid, 57, a former TV host and finance minister, would take over after about two years.
Their coalition government would comprise a patchwork of small and medium parties from across the political spectrum, including for the first time in Israel's history a party that represents Israel's 21% Arab minority – the United Arab List.
It would also include Bennett's Yamina (Rightward), centre-left Blue and White, headed by Defence Minister Benny Gantz, the left-wing Meretz and Labour parties, former defence minister Avigdor Lieberman's nationalist Yisrael Beitenu party and New Hope, a right-wing party headed by former education minister Gideon Saar, who broke away from Netanyahu's Likud.
But the fragile new government, which would command a razor-thin majority in parliament, was only expected to be sworn in about 10-12 days from now, leaving slight room for Netanyahu's camp to try and abort it by turning lawmakers over to their side and vote against it.
Israeli political analysts widely expected Netanyahu to try every possible political manoeuvre to make this happen, seizing upon Yamina members who are unhappy about joining forces with Arab and leftist lawmakers.
Netanyahu, who has yet to respond to Lapid's announcement, controls 30 seats in the 120-member Knesset, almost twice as many as Lapid's Yesh Atid party, and he is allied with at least three other religious and nationalist parties.
In related news:
History made as Arab Israeli Ra'am party joins Bennett-Lapid coalition.
The first Arab party to join a government in decades, Islamists make good on promise to seek change from inside, winning billions in promised state funding for community.
Ringed by flashing cameras in a luxury hotel in Ramat Gan, conservative Islamist Ra'am chief Mansour Abbas made history on Wednesday night as the first Arab Israeli party leader in half a century to sign a deal to sit in a coalition government.
"This is the first time that an Arab party is part of the process of forming a government. We of course hope that it works and that a government will rise after four rounds of elections," Abbas said.
Even before Ra'am announced it was signing on, the nascent coalition was widely regarded as the widest in the country's history, uniting parties from the left to the pro-settlement right aimed at deposing Prime Minister Benjamin Netanyahu and his Likud faction.
To make it happen, Yamina chief Naftali Bennett and centrist Yesh Atid leader Yair Atid agreed to a rotation scheme, with Bennett becoming Prime Minister for the first two years.
Despite the wide spectrum of views in the so-called "change government," Abbas said that he had agreed on numerous plans and budgets in Arab Israeli society with his counterparts in the constellation of parties seeking to topple Netanyahu.
"We have reached a critical mass of agreements in various fields that serves the interest of Arab society and that provide solutions for the burning issues in Arab society — planning, the housing crisis, and of course, fighting violence and organized crime," Abbas said.
For decades, Arab Israeli parties have almost always remained on the outside of the decision-making process in Israeli politics. Jewish parties shunned them as extremists, while they themselves were often skeptical of joining an Israeli government they deem treats them as second class citizens and oppresses Palestinians.
Under Abbas, Ra'am in recent months began to blaze a different path, openly working with Netanyahu's government. After leaving the Joint List of Arab parties, Ra'am ran alone on a platform of being willing to affect change from the inside by being open to joining a government, with the goal of achieving tangible policy advancements for his community.
That included being willing to join right-wing Yamina leader Bennett, who opposes the creation of a Palestinian state and has long been identified with the settlement movement.
"For decades, Arab Israelis have been without any influence. Now, everyone knows that we're the deciding votes as far as politics goes," Ra'am lawmaker Walid Taha told a reporter for the Arabic-language channel Hala TV.
Hundreds of protesters gathered outside of a Ramat Gan hotel where the negotiations were being conducted to call for the change bloc's right-wing parties — such as Yamina, New Hope, and Yisrael Beytenu — to withdraw. Demonstrators held signs telling the parties "not to make a government with terror supporters."
"How can this government defend us from the Iranian nuclear threat?" went another sign held by a right-wing protester.
Many Ra'am voters would likely have preferred Lapid rather than the hard-right Naftali Bennett. The coalition negotiations were also further complicated by growing violence in Israel, the West Bank and Gaza.
In early May, Israel Police clashed with Palestinian worshippers in the Al-Aqsa Mosque, the third-holiest site in Islam, and at Damascus Gate wounding hundreds with rubber-tipped steel bullets.
When open warfare broke out between Israel and Hamas and mob violence rolled through Arab-Jewish mixed cities, Ra'am temporarily froze the ongoing attempts to join the government in an attempt to wait things out.
But even at the height of the chaos, Ra'am party officials close to Abbas remained optimistic that as soon as the events died down, the negotiations would resume.
By the time Abbas arrived in at the Kfar Maccabiah hotel to conclude negotiations on Wednesday night, Ra'am's participation in the coalition was already nearly a done deal.
Things to consider: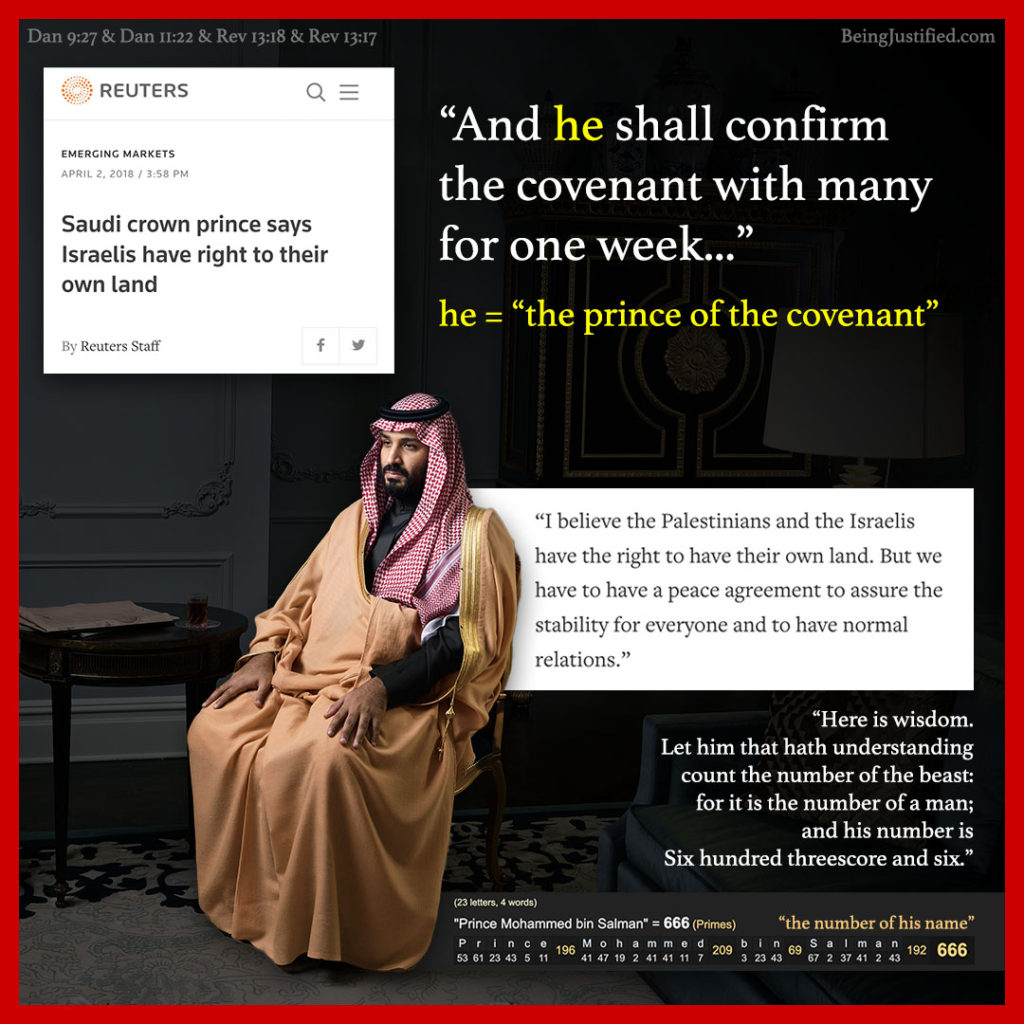 As we move to Prince Mohammed bin Salman confirming a covenant with many including Israel to start the final prophetic week, we are seeing the rise in Islam throughout the middle east.
And it might seem that the Vatican's Jesuit soldier Benjamin Netanyahu's role has come to an end, but without furthering Satan's "mystery of iniquity" program for advancing us to the fast approaching kingdom of the beast, which is the new world order.