Scripture to consider before the news:
"And he causeth all, both small and great, rich and poor, free and bond, to receive a mark in their right hand, or in their foreheads: And that no man might buy or sell, save he that had the mark, or the name of the beast, or the number of his name. Here is wisdom. Let him that hath understanding count the number of the beast: for it is the number of a man; and his number is Six hundred threescore and six."
That he which will cause the world to receive the mark of the beast will be the final pope who is the false prophet of Revelation 13. This covid conspiracy is simply to destroy the global economies with lockdowns, depopulate the earth and prepare the minds of the lost to receive the mark of the beast coming up 42 months after the prince confirms the covenant with Israel to start their final prophetic 70th week as written in the book of the prophet Daniel.
Now unto the news:
Italy may eventually make COVID vaccine shots compulsory for all, Draghi says.
Italy may eventually make COVID-19 inoculations compulsory for everyone of eligible age, and plans to start administering booster vaccine shots later this month to vulnerable people, Jesuit puppet and Prime Minister Mario Draghi said on Thursday.
The government has already made it mandatory for medical workers to get vaccinated if they want to be paid, but Draghi said everyone may be obliged to get a shot when EU health authorities give full approval to the vaccines.
The European Medicines Agency (EMA) has given conditional approval to four vaccines. This could be upgraded to so-called standard marketing authorisation after further checks, at which point, Draghi said, they could become compulsory for all.
Such a move would likely spark fierce opposition in a country that has seen a rise in scepticism about all kinds of vaccines over the past decade and where health experts who have promoted inoculations have faced verbal abuse and threats from No Vax opponents.
He added that his government was planning to further extend the usage of so-called Green Pass health documents, which are currently needed for long-distance travel, access to many leisure activities and are also obligatory for school workers.
In other news:
Palestinian Authority President Mahmoud Abbas meets with Egyptian President Abdelfattah El-Sissi and Jordanian King Abdullah II in rare trilateral summit.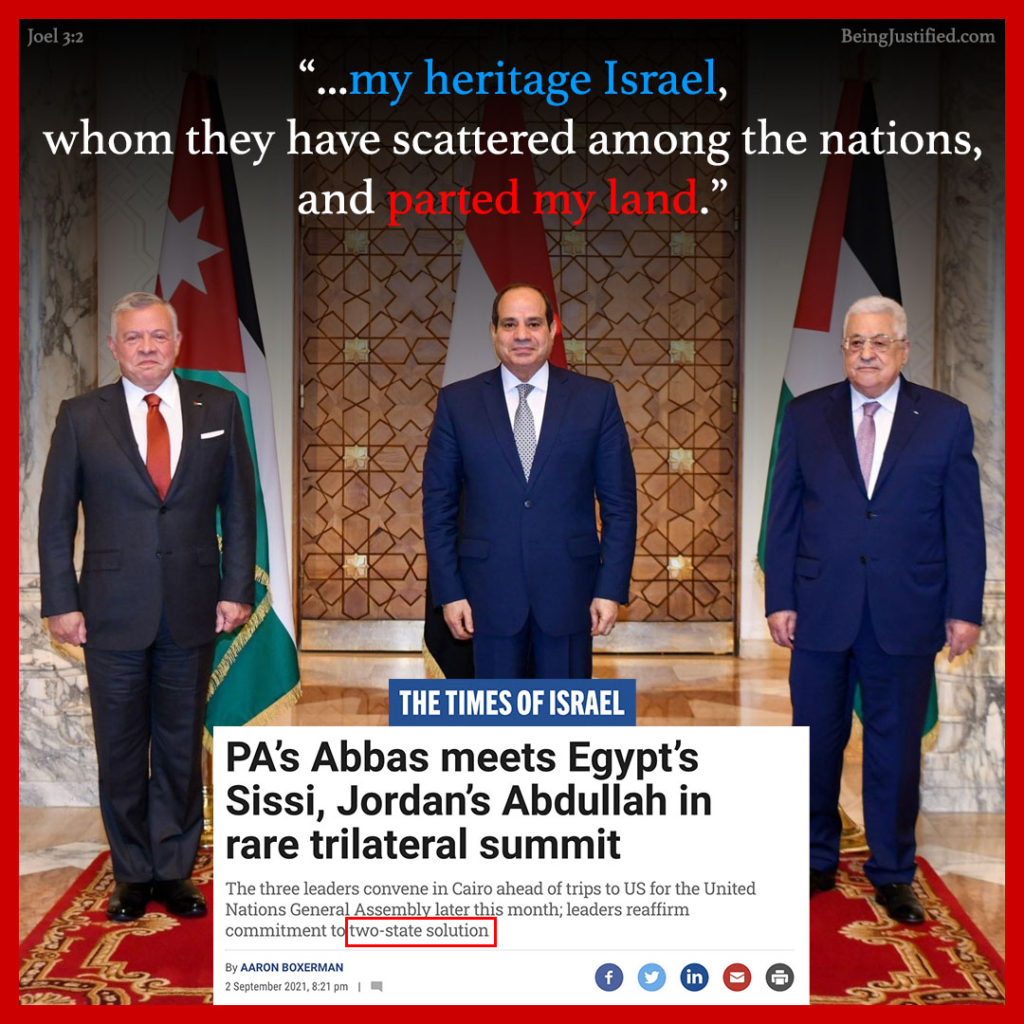 Scripture to consider:
"I will also gather all nations, and will bring them down into the valley of Jehoshaphat, and will plead with them there for my people and for my heritage Israel, whom they have scattered among the nations, and parted my land."
God's land of Israel will be parted and it is looking to be done by the upcoming Palestine two-state solution.
Palestinian Authority President Mahmoud Abbas met with Egyptian President Abdel-Fattah el-Sissi and Jesuit educated Jordanian monarch Abdullah II in Cairo on Thursday in the first trilateral meeting between the parties since 2017.
Abbas has shuttled back and forth between Amman and Ramallah several times in recent months for lightning visits with Abdullah. The PA leader also met with Sissi last year.
But a trilateral meeting has not taken place since 2017, when the three met on the sidelines of the Arab League's annual summit.
The Palestinian leader was joined by close advisers Hussein al-Sheikh and Majdi Khalidi, as well as PA intelligence chief Majed Faraj.
Senior Fatah official Azzam al-Ahmad told Voice of Palestine Radio on Wednesday that the meeting would enable the three sides to push for an "international conference" to establish a Palestinian state. Abbas has occasionally spoken about the idea over the past year.
Al-Ahmad added that the meeting also would allow the three sides to coordinate their message ahead of the United Nation General Assembly meeting later this month.
In a closing statement from the parties, the three leaders vowed to retain their commitment to a two-state solution, with an independent state of Palestine in the West Bank and Gaza that has its capital in East Jerusalem.
Don't forget that a Palestine two-state solution is required before the Prince's land of Saudi Arabia comes on board.
Lastly, in the news:
Israeli officials cautioned Biden against heavy criticism of Egypt, Saudi Arabia.
Scripture to consider:
"And he shall confirm the covenant with many for one week: and in the midst of the week he shall cause the sacrifice and the oblation to cease, and for the overspreading of abominations he shall make it desolate, even until the consummation, and that determined shall be poured upon the desolate."
The he that shall confirm what is looking to be the Abraham Accords covenant with Israel to start the last days is looking to be Prince Mohammed bin Salman of Saudi Arabia because he comes from a line of 6 kings and he would be the 7th and the number of his name equates to the number of the beast because the prince and the beast are one in the same person.
It is no wonder you see Israel and just recently the CIA of America support the crown prince.
Israeli officials have cautioned their counterparts in the Biden administration against being overly critical of the Saudi and Egyptian governments, due to concerns that that such criticism might lead Riyadh and Cairo to turn to countries like Iran, China and Russia for support.
Jesuit Joe Biden entered office vowing to place a premium on human rights in the crafting of his foreign policy, warning that countries such as Saudi Arabia and Egypt would need to reform if they wanted to maintain their longstanding relationships with the US.
But that approach has worried Jerusalem, which believes it could alienate Saudi Arabia's Crown Prince Mohammad bin Salman and Egypt's President Abdel-Fattah el-Sissi, leading them to look elsewhere for support and alliances — namely from Iran, but also from US adversaries China and Russia. Those concerns have been passed along to administration officials on multiple occasions, said the source, who spoke on the condition of anonymity.
However, the matter was not raised during the meeting between Biden and Prime Minister Naftali Bennett.
The source expressed satisfaction that while the Biden administration has maintained its rhetoric in favor of upholding human rights abroad, it has "thus far avoided upending US relations with [Cairo and Riyadh] entirely."
Israel views Saudi Arabia and Egypt as part of a more moderate axis of Arab countries in the region with which it seeks to cooperate against Iran, and has been reported in the past to lobby the US in support of economic aid for both countries.
Israel and Egypt signed a peace treaty in 1979, ending decades of conflict and establishing full diplomatic relations. In recent years, the two countries have cooperated closely on security, mostly surrounding the Gaza Strip and Sinai Peninsula.
Saudi Arabia, meanwhile, has drawn closer to Israel amid both countries' efforts to thwart Iran's regional aspirations; however, it has so far resisted establishing diplomatic ties with the Jewish state.
Get ready for the last days to start when the prince of Saudi Arabia confirms the covenant with many, but namely Israel.